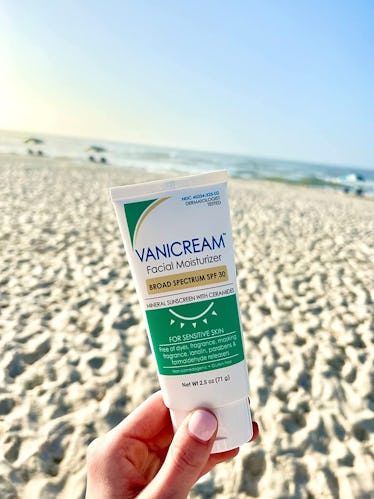 The Best Sunscreens For Accutane, According To A Derm
When you're on Isotretinoin, adequate sun protection is more important than ever.
Amazon
We may receive a portion of sales if you purchase a product through a link in this article.
Between all of the potential side effects and required monthly blood work that comes with taking Accutane, it can be easy to forget how important sunscreen becomes — until your first sunburn, that is. "Isotretinoin (aka Accutane) increases sun sensitivity due to the skin being sensitive in general," dermatologist Sheila Farhang tells Elite Daily of the prescription-only drug. "Accutane decreases oil production, leading to skin dryness and sensitivity — the perfect recipe for sunburns," she adds, noting that Accutane actually no longer exists, and was a brand name for Isotretinoin. According to Dr. Farhang, the best sunscreens for Accutane are SPF 30 or higher formulas that contain mineral sun blockers like zinc oxide and/or titanium dioxide. "Solely chemical sunscreens can cause skin irritation in some people since the skin is more sensitive while on Isotretinoin," Dr. Farhang explains of why it's best to stick with mineral sunscreens.
The Expert
Dr. Sheila Farhang, M.D., is a board-certified dermatologist, reconstructive skin cancer surgeon, and cosmetic surgeon based in Tucson, Arizona. She is the founder of Avant Dermatology & Aesthetics, a dermatologic practice with offices in Arizona and California.
Sunscreen Rules To Follow While On Accutane
Dr. Farhang stresses that it's especially crucial to be diligent about your sunscreen regimen during your Accutane course of treatment, which is typically four to six months. "Your skin wound healing isn't as great [while taking Accutane], so your body's ability to heal from a sunburn or any other trauma takes longer," she explains, while emphasizing that these rules apply to any part of your skin that's being exposed to the sun. "Isotretinoin is an oral systemic medication, so it affects all areas of the skin. Of course, the areas that are more sun exposed, such as your face, neck, chest, scalp, and arms are especially important [to protect]," she adds. You'll also want to be sure that you're applying your sunscreen at least 15 minutes prior to leaving the house, and reapplying every two hours (or immediately after swimming or sweating).
Ingredients To Avoid While On Accutane
Because your skin becomes more sensitive and dry while taking Accutane, Dr. Farhang recommends looking out for a few other ingredients in your sunscreen (and the rest of your skin care routine). "I would avoid fragrances, alcohol-based aerosols, and sunscreens that [contain] active ingredients that are for oily/acne-prone skin," she says. While that last one might sound counterintuitive, the ingredients found in products geared toward oily and acne-prone skin are usually exfoliating acids, which can be too harsh when you're on Accutane (plus, they also tend to increase sun sensitivity).
Shop The Best Sunscreens For Accutane
In a hurry? Here are the best sunscreens for Accutane:
1. Derm's Pick: Best Tinted Sunscreen For Accutane
Though it's a bit of a splurge, Dr. Farhang recommends Revision Skincare's Intellishade TruePhysical tinted moisturizer, which combines SPF 45 with several other skin care benefits. "This is formulated with microbiome technology, which helps balance the skin pH," Dr. Farhang explains. Additionally, the moisturizer contains a blend of peptides and vitamin C to boost collagen production and promote a more even skin tone, as well as moisturizing and soothing ingredients like squalane, aloe leaf juice, and green tea leaf extract. The sheer, self-adjusting tint is less about adding color to your skin and serves more as a way to camouflage cancel out any white cast from the zinc oxide inside.
SPF Level: 45 Moisturizing Ingredients: Glycerin, Aloe Vera, Green Tea Leaf Extract, Squalane, Vitamin E Size: 1.7 oz. Fragrance-Free: Yes
Relevant Review: "Great multi-tasking product. It moisturizes, evens skin tone with its tint, and has an excellent physical SPF. It gives my skin a nice glow without making it look greasy (and my skin can get oily, especially in the t-zone). [...] I also have sensitive skin with rosacea, and this product has not caused any irritation or breakouts. It's pricey but I think the tube will last a while."
2. Best Facial Sunscreen Under $20
Vanicream is known for its line of sensitive skin-friendly products, so it's no surprise that the brand's SPF 30 moisturizer has nearly 10,000 five-star ratings on Amazon. The gentle formula uses zinc oxide to provide sun protection and ingredients like squalane and ceramides to restore moisture and reinforce your skin's protective barrier, which can ultimately help prevent dryness and irritation. Because it's a noncomedogenic moisturizer, you don't have to worry about it clogging your pores, and it's also free from any kind of fragrance (including those from essential oils or botanical extracts, which are technically natural forms of fragrance, but can still be irritating to some).
SPF Level: 30 Moisturizing Ingredients: Squalane, Glycerin, Ceramides Size: 2.5 oz. Fragrance-Free: Yes
Relevant Review: "Fragrance-free and very simple moisturizer. Never breaks me out and gets the job done. I've been using it while I'm on Accutane, and it is able to combat my super dry and sensitive [skin]."
3. Best Water-Resistant Face & Body Sunscreen
On days when you're spending more time outside, you'll want to make sure you're using water-resistant sunscreen (and, ideally, wearing sun-protective clothing). Dr. Farhang says that it also doesn't hurt to bump up your sunscreen to SPF 50 while on Accutane, in which case you may want to consider this Thinksport sunscreen. The non-oily formula is water resistant for up to 80 minutes, and can be used on both your face and body. Plus, it contains multiple moisturizers like glycerin, sunflower seed oil, and jojoba seed oil to help alleviate some of the dryness that Accutane causes.
SPF Level: 50 Moisturizing Ingredients: Glycerin, Sunflower Seed Oil, Jojoba Seed Oil, Vitamin E, Olive Fruit Oil, Hyaluronic Acid Size: 6 oz. Fragrance-Free: Yes
Relevant Review: "Huge bottle, lasts a long time! Really thick, smells good. I'm on Accutane, so my skin burns really easily, and this protects it in the burning sun and water at the beach or pool for hours! Almost never have to reapply."
4. Best Sunscreen Stick
To ensure you're never without sunscreen during your Accutane treatment, consider keeping an on-the-go stick in your bag. Blue Lizard's Sensitive Mineral Sunscreen SPF 50+ Stick makes applying (and touching up) your sunscreen as easy as swiping it across your skin and rubbing it right in. The noncomedogenic formula is water-resistant and ultra moisturizing thanks to ingredients like shea butter, sunflower seed oil, squalane, and cocoa seed butter. It's also free from parabens and fragrance to minimize the risk of skin irritation.
SPF Level: 50 Moisturizing Ingredients: Aloe Vera, Shea Butter, Coconut Oil, Sunflower Seed Oil, Sunflower Seed Wax, Castor Seed Oil, Jojoba Seed Oil, Squalane, Cocoa Seed Butter, Vitamin E Size: 0.5 oz. Fragrance-Free: Yes
Relevant Review: "I have very sensitive skin—acne prone, eczema flare-ups, dry, acne scars, all of it. i have found i can only use mineral sunscreens due to the eczema, but ever since i've used this product, i've had no eczema, my acne has reduced significantly, i have little to no redness. a LOT of product is in this, so don't let the size throw you off. it is GREAT FOR THE PRICE. solid white stick that blends PERFECTLY with NO white cast!"
5. Best Powder Sunscreen
Another convenient way to get extra sun protection is with a powder sunscreen that can be applied on skin without makeup, over makeup, and along your scalp and part lines. Brush On Block's Translucent Mineral Powder Sunscreen SPF 30 is a sweat- and water-resistant powder sunscreen that comes in a self-dispensing brush that's great for on-the-go use. Because it's a powder formula, you don't have to worry about any greasy or sticky residue being left behind, but it also contains soothing ingredients like bisabolol and green tea leaf extract, so it won't dry out your skin or cause irritation, either.
Just remember: Powder sunscreens should not be used as your primary form of sun protection, especially if you're on Accutane. Rather, if you think you could benefit from added sun protection, whether as the last step in your makeup routine or throughout the day, these can be applied on top of your SPF 30 (or higher) cream or liquid sunscreen.
SPF Level: 30 Moisturizing Ingredients: Bisabolol, Chamomile Flower Extract, Glycerin, Green Tea Leaf Extract, Jojoba Seed Oil, Safflower Seed Oil Size: 0.12 oz. Fragrance-Free: Yes
Relevant Review: "Great product! Mineral sunscreen brushes on smoothly and provides added sun protection coverage. Easy to carry and easy to use!"
6. Best Lip Sunscreen
Your lips need sun protection, too, and they're especially in need of a hydrating formula while on Accutane as the prescription commonly causes severely dry and chapped lips. Lip balms that provide adequate sun protection and are truly moisturizing are rare, but Aquaphor's Lip Protectant + Sunscreen is a tried-and-true favorite with more than 9,000 five-star ratings from Amazon reviewers. There are multiple moisturizers in here, but it's the petrolatum, which acts like a shield to prevent moisture loss, that really helps to protect cracked and damaged lips. Though it does contain chemical sun filters, it is free from other potential irritants like preservatives and fragrances.
SPF Level: 30 Moisturizing Ingredients: Glycerin, Castor Seed Oil, Panthenol, Shea Butter, Vitamin E Size: 0.35 oz. Fragrance-Free: Yes
Relevant Review: "I'm on Accutane, and this is the only lip balm that works on my super dry, chapped lips."
Expert:
Dr. Sheila Farhang, M.D., board-certified dermatologist and founder of Avant Dermatology & Aesthetics.