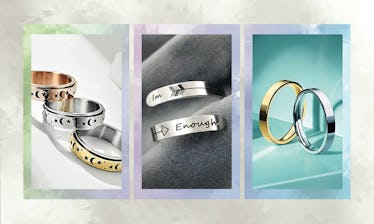 The 9 Best Rings That Won't Tarnish
We only recommend products we love and that we think you will, too. We may receive a portion of sales from products purchased from this article, which was written by our Commerce team.
Elite Daily / Amazon
Odds are that if you're searching the internet for the best rings that won't tarnish, you're not looking to drop a few hundred dollars at an expensive jewelry store. Instead, you're probably in the market for cheap jewelry that's surprisingly high quality, and Amazon has you covered in that department. Obviously, solid gold and platinum rings are significantly more resistant to tarnishing than those made from cheaper materials, but if you're not looking to spend that much, plated rings or durable metal rings are the next best thing.
When a ring is plated, that means the exterior is covered in a thin layer of another material. (Since that's the part that touches your finger, it's a good cost-effective alternative for those with sensitive skin — especially if the ring is lead-free, nickel-free, and hypoallergenic, too.) Most affordable jewelry uses 14-karat gold plating to resist tarnishing. Silver jewelry is the most likely to tarnish, which is why you'll want to look for rhodium- or platinum-plated options for durability if you want the color. Of all the precious metals, platinum is the most resistant to tarnishing.
Still, plating can wear off with time and friction, so another popular tarnish-resistant option is a ring that's made entirely from a durable non-precious metal. The most popular options are usually titanium and stainless steel, which are much harder (so they're less likely to warp or dent), and they're solid throughout (so the plating won't fade with wear). The best option for you will likely depend on the style you're looking for and how tough you expect to be on the jewelry.
In a hurry? Here are the best rings that won't tarnish:
1. This Popular Twisted Rope Ring: PAVOI Twisted Eternity Band
2. The Best Stacking Rings — & The Best Value: LOYALLOOK Stacking Rings (3 Pieces)
3. A Durable Fidget Ring: nylry Titanium Stainless Steel Spinner Ring
4. A Triple-Layered Ring With Rave Reviews: BORUO Triple Layered Interlocking Ring
5. A Classic Everyday Ring: NOKMIT Plain Stacking Ring
6. The Most Popular Moonstone Ring: Silvershake Natural Moonstone Ring
7. This Chunky Initial Ring: KeyStyle GoldChic Initial Ring
8. The Best Faux-Diamond Ring On Amazon: Amazon Collection Infinite Elements Zirconia Ring
9. This Ring With Inspirational Words: Vrycot Inspirational Words Ring
You'll find both plated and durable metal rings below, and not one of them will cost you more than $30.
1. This Popular Twisted Rope Ring
This PAVOI twisted band has almost 9,000 ratings and an overall rating of 4.3 stars. Despite its under-$15 price tag, it's free from nickel and lead, so it's hypoallergenic — and it's resistant to tarnishing thanks to its 14-gold plating in your choice of rose, white, or yellow gold. It has cubic zirconia woven throughout the band, highlighting its delicate eternity design.
One reviewer wrote: "I absolutely love my purchase. It goes great with the engagement ring my husband bought me. And it was not near the price. I ordered the wrong size the first time and immediately got my refund and a new ring within 2 days. Great customer service and a wonderful product. I have worn in the shower and never take it off and it has not changed colors or tarnished. IT IA GORGEOUS!"
Available sizes: 5 — 10
Available finishes: 3
2. The Best Stacking Rings — & The Best Value
With this pick, you get three rings for just $10. Stack one on top of the other or wear them on different fingers. Since they're made from stainless steel, they're allergy-free and resistant to tarnishing, but they come in your choice of gold, rose gold, and silver tones. Despite their thin designs, they're durable enough to resist bending and scratches.
One reviewer wrote: "I love these rings! They are perfectly dainty and yet strong. I've had these rings for months now. I never take the one on my right ring finger off. I sleep with it on, work out with it on, shower with it on- It doesn't turn my finger green, it hasn't tarnished and it's stayed in perfect shape! I'd buy this product again for sure"
Available sizes: 3 — 10
Available finishes: 3
3. A Durable Fidget Ring
Many top-selling fidget rings are usually made from sterling silver, which is a precious metal, but one that tarnishes easily, especially when touched often. This fidget ring, on the other hand, is made from titanium steel, so it's much more durable. The moon and star band spins inside the base, to help keep you relaxed and more focused during tasks. (Keep in mind that they run small, according to reviewers, so you might want to size up.) Choose from 10 different styles and finishes, including classics like white, yellow, and rose gold, and unique options like holographic and black.
One reviewer wrote: "It does not turn your finger green at all, it spins perfectly and doesn't rust. It doesn't get dirty if wet or anything. I've had it for 6 months it's in perfect condition."
Available sizes: 5 — 15
Available styles: 10
4. A Triple-Layered Ring With Rave Reviews
Yes, this interlocking ring is made from precious 925 sterling silver (which is vulnerable to tarnishing) — but it's plated in platinum and finished in rhodium, so it's extra-durable and tarnish-resistant, too. The thin bands are triple-layered for a stylish look. Close to 15,000 reviewers have given it an impressive overall rating of 4.5 stars, making it one of the most popular options on Amazon.
One reviewer wrote: "I loved this ring so much that when I lost the first one I ordered I immediately came back here to purchase a replacement. Its real silver. It hasn't tarnished, turned any strange colors or turned my finger any colors. I had my first one for a while and wore it everyday. I even bartended with it on which can expose your jewelry to all sorts of abusive behavior & chemicals. This ring lasted through it all."
Available sizes: 4 — 12
Available finishes: 1
5. A Classic Everyday Ring
You can get it in black, gold, or silver, but this elegant stacking ring is actually made from sturdy stainless steel, so it won't warp or tarnish. Since it's flat and thin, its simple design is easy to wear every day, whether alone or paired with the rest of your ring collection. According to reviewers, it's so durable, it'll "outlast you."
One reviewer wrote: "I read the reviews before purchasing this ring and most of them claimed that the ring does not tarnish or leave any discolored marks on your skin. Well I am writing to tell you that it is true! I have been wearing it non stop since I purchased it in March and I am very pleased with my purchase, I highly recommend this ring!"
Available sizes: 5 — 10
Available finishes: 3
6. The Most Popular Moonstone Ring
The sterling silver on this moonstone ring has a layer of anti-tarnish rhodium protection to keep it looking shiny. That said, even if it does fade, it'll complement the Victorian-inspired style of the band. Reviewers also love the moonstone gem, which is bezel-set and "absolutely gorgeous," according to one shopper. So far, this one has earned an impressive overall 4.6 stars from more than 15,000 reviewers.
One reviewer wrote: "Absolutely amazing quality. I've had this ring for about two months now and wear it every day. Real sterling silver that does not tarnish or wear down, real high quality gemstone with great color and luminosity, and accurate sizing. The ring is beautiful. You could charge triple and it'd still be worth the price. The fact that this high quality of a ring is such a low price is incredible."
Available sizes: 3.5 — 12
Available finishes: 1
7. This Chunky Initial Ring
Looking for an eye-catching accent that's personalized? This bold initial ring comes in every letter of the alphabet as well as your choice of gold, black, or silver — and you can even opt to get the inside engraved. For tarnish protection, it's plated in several layers of either platinum or 18-karat gold, and then sprayed with a protective lacquer to prevent oxidization. Since it's open on the side, it's adjustable and fits just about any finger.
One reviewer wrote: "Overall it's a great ring considering the price! I've had it on for about a week straight and even worn it in the pool a few times and no tarnishing or discoloration. Love that it's lightweight, I barely notice it on. The easily adjustable sizing is great, too!"
Available sizes: One size (adjustable)
Available styles: 8
8. The Best Faux-Diamond Ring On Amazon
As previously discussed, platinum and gold are some of the best options out there for tarnish protection, and that's one of the reasons why it's so expensive. This Amazon Collection ring is made from sterling silver and plated in either platinum, yellow gold, or rose gold, so it's both durable and affordable at the same time. Its three cubic zirconia stones are beautifully cut and resemble real diamonds, and according to one reviewer, it's "worth every penny and then some." Get it in various carat sizes as well as different finishes.
One reviewer wrote: "I ordered this ring to wear as an everyday ring instead of wearing my expensive wedding ring. This is a gorgeous ring! It is sparkly and looks like the real diamond. I even wash my hands with the ring on and the color did not tarnish yet and the rock still sparkles. Give it a try!"
Available sizes: 5 — 9
Available styles: 7
9. This Ring With Inspirational Words
Finally, there's this inspirational words ring, which comes in 31 designs and phrases to give you a pick-me-up every time you look down at it. It's constructed from steel and titanium, so it's sturdy and tarnish-resistant. Its spiral design is also adjustable, making it less likely that you'll have to worry about finding the right size.
One reviewer wrote: "I love my ring so much. I was expecting it to turn my finger green but it is very sturdy and well made. Actually ordered a second one for my best friend. They are not only adjustable but very comfortable. Highly recommend"
Available sizes: One size (adjustable)
Available styles: 31
This article was originally published on