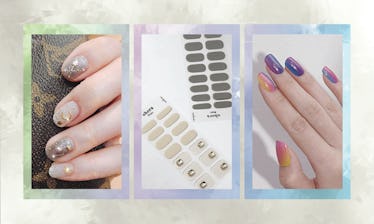 The 10 Best Nail Polish Strips & Stickers
We only recommend products we love and that we think you will, too. We may receive a portion of sales from products purchased from this article, which was written by our Commerce team.
Elite Daily / Amazon
If shaky hands or a lack of patience have thwarted your best attempts to create a salon-quality manicure at home, nail strips and stickers can come to the rescue. The best nail strips and stickers are quick and easy to use, and they can last as long as a traditional manicure (or longer) with the right tools and proper application. Full nail strips will cover the whole nail, and they come in regular polish and gel varieties. But to add a fun touch to bare painted nails, consider snagging some smaller stickers or decals, too.
Types Of Nail Polish Strips & Stickers
As you shop, first decide whether you want to use full-nail strips or smaller decals. Nail strips (sometimes referred to as nail wraps or simply nail stickers) cover the whole nail and come in formulas made with gel or regular polish. If you're looking for a long-lasting manicure, opt for gel strips, which can often stay put for up to two weeks. Prefer regular nail polish over gel? Opt for a nail strip kit that's made with regular polish, which should typically last up to about one week on their own. You can add a coat of regular clear polish or a top coat to make them last a few more days. Removing full-nail strips varies by brand, but most gel and regular polish strips can be peeled off by hand, and require nail polish remover.
On the other hand, nail decals are small, basic stickers that can jazz up polished nails. They can last up to a week on their own, but adding a regular top coat can extend their wear and give them a nice glossy shine. When you're ready to switch up your mani, the decals should come off when you remove the polish underneath.
What You Need To Apply Nail Polish Strips & Stickers
Applying these self-adhesive nail strips or stickers is usually a beginner-friendly process, but having the right tools is still essential. If you're new to this type of at-home manicure, consider a set of nail strips that comes with the tools you'll need: a cleaning pads to prep your nails, a wood stick to press the strip in place, and a nail file to remove the excess strip from the tips of your nails. Some kits are even more expansive and include items like cuticle trimmers or scissors. If you're leaning towards using gel over regular polish strips, you might also need to invest in a UV nail lamp to cure the gel, depending on the individual nail strips. (Some gel strips require curing, but some don't.)
Decorative nail stickers tend to be even simpler to use: Tweezers are usually the only tool you'll need to apply decals to your mani, though you'll also probably want to add a layer of regular clear polish or top coat to help them last longer.
Ahead, you'll find the best nail strips and stickers you can buy on Amazon. I've broken up the list into two categories — full nail strip kits and smaller nail stickers — for your convenience. Whether you prefer to stick to neutral manis or switch up your nails with different colors and designs, you'll find a set for your budget and mood.