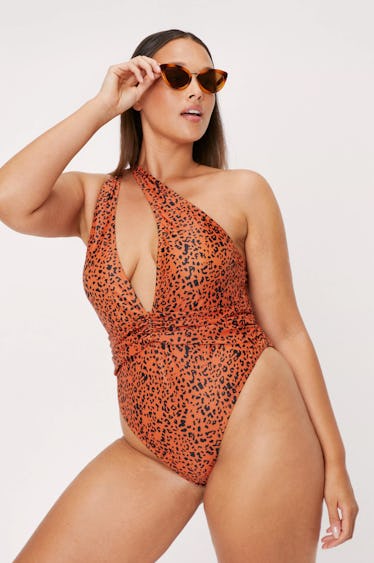 These Animal Print Swimsuits Are Fierce AF, & You're Going To Want Them All
It's never too late for a new swimsuit.
Courtesy of Nasty Gal
'Tis the season to dive headfirst into the biggest swimwear trends of the season and along with neon and polka dot styles, animal print swimsuits are set to be among the most popular of them. Taking into account the fact that fashion as a whole has been loving all things leopard, tiger, cheetah, and snakeskin both on and off the runways as of late, it makes sense that the patterns would have also seeped into the swimwear market. They give bikinis and one-pieces an especially fierce twist so I, for one, am all about it.
No matter what swimsuit silhouette you're into or which print you prefer, there's definitely an option out there that you'll want to live in all summer long. The days of plain black bikinis or otherwise subtle suits are long gone, so embrace your wild side and take a risk. If you do prefer to skew more traditional, go with a leopard one-piece. If you really want to shake things up, opt for a bikini in a fiery red or bright pink hue. With this trend, you really can't go wrong, so follow your natural instincts and go with the one that catches your eye the most.
This year, you're swimming in style.
This article was originally published on