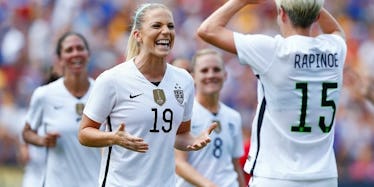 Eagles Tight End Zach Ertz Just Proposed To USWNT's Julie Johnston
Getty Images
It's official: US women's national team soccer starlet Julie Johnston and Philadelphia Eagles tight end Zach Ertz are officially engaged.
According to several Twitter and Instagram posts, it appears Ertz popped the question to Johnston at Klein Field at Sunken Diamond, home of Stanford University's baseball team.
Here's Ertz's tweet of his proposal to Johnston.
She said yes!! My best friend made this the best day of my life! #MrsErtz pic.twitter.com/G3ZmtQBM67 — Zach Ertz (@ZERTZ_86) February 27, 2016
Obviously, the USWNT defender said "yes."
Today was perfect! I get to marry my best friend #myforever https://t.co/dtHyeqEoiO — Julie Johnston (@_JulieJohnston_) February 27, 2016
From the looks of it, the two couldn't be happier to tie the knot.
Ertz, who attended Stanford, apparently met Johnston for the first time at Klein Field, which is why he chose that location to pop the question. Congratulations to the happy couple.
Citations: USWNT's Julie Johnston and Eagles TE Zach Ertz are engaged (FOX Sports)