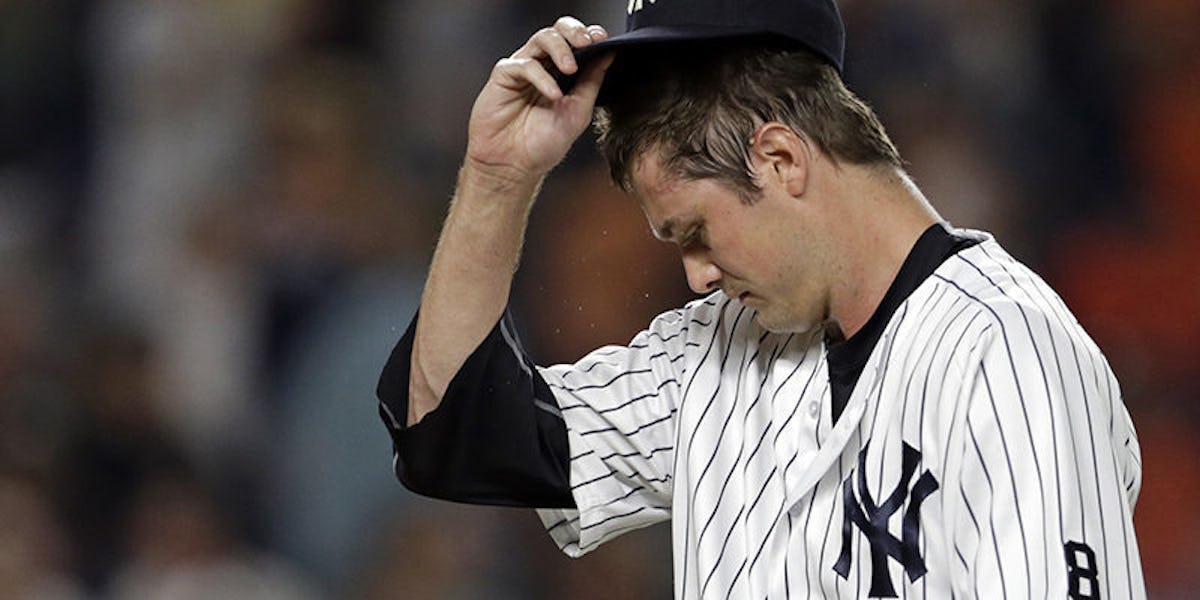 It's Official, The New York Yankees Are Just Like Any Other Team Now
USA TODAY SPORTS
If there were any New York Yankees fans who were still in denial about the demise of their team's juggernaut years, they can no longer be after Sunday's news.
Just consider what Brian Cashman did in the span of a week.
On Monday, the long-time Yankees general manager traded pitcher Aroldis Chapman. And now, on this sad Sunday, he's traded Andrew Miller.
The pair of trades feel symbolic, too, particularly because of where that pair of pitchers is headed. Just think about it.
Chapman is now with the Chicago Cubs, a team whose century-long championship drought is the antithesis of what the Yankees' winning culture is all about.
Miller now heads to the Cleveland Indians, a team whose history of bad luck reminds you why the city's called The Mistake by the Lake.
It's a total role reversal that, as a Yankees fan myself, only makes me wonder: What the hell happened to us?
We used to get good players at the trade deadline like the buyers we're supposed to be, but now we trade them away like sellers.
Getting to the World Series used to be every year's aim, but now we're just happy to exit this losing season with good prospects.
And even in the years when we didn't win the Series, it took modern-day miracles to stop us. The Boston Red Sox needed an ungodly performance from pitcher Curt Schilling with a bloody sock to beat us in '04. And even then, we played nice by not testing his ankle with a few good bunts.
It took Kenny Rogers and his magic "rosin" to beat the Yankees in '06, and it took a moth attack straight out the Book of Exodus to plague Joba Chamberlain and stop us in '07.
Even when the Yankees were "bad," the stars had to align for them to get beat.
But not anymore.
That era of high-standard Yankees baseball looks like it's gone.
We don't respond to mediocre seasons by coming back stronger -- the way we did after missing the playoffs in '08, before winning the whole thing in '09. In fact, we're much worse now than we were in 2015, and that wasn't great, either.
We don't ruthlessly steal star players away from other teams like we used to under George Steinbrenner. I mean, does anyone even think Hal Steinbrenner has it in him to try to take Bryce Harper in 2018?
Now, I know most of this sounds like an unreasonable rant. But that's the great thing about the Yankees; their standards gave every fan reason to be unreasonable.
There's just no getting around it. For any Yankees fan who grew up during the Derek Jeter era, this is all feels strange.
But, yes, obviously there's sense in what the Yankees are doing.
And, yes, there is an argument the Yankees have too often sold the farm in the name of signing star players. So, the idea of preparing for a major comeback by securing assets for the future could easily feel like a breath of fresh air to some.
In fact, there are people reveling in that fresh air on Twitter right now.
I get it, but I'm just not there yet.
As a Yankees fan, I just can't be satisfied with the hope we might be good three years from now. This rebuilding thing has always been for the rest of the peasants around the league, not us.
But for the Yankees fans who are happy with this, I understand, and I'll even offer a commiseration.
Congratulations, we're just like every other team now.
Citations: Yankees GM on Aroldis Chapman trade: 'This isn't a white flag' (USA Today)