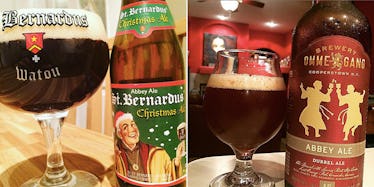 15 Beers You Need To Be Drinking While Watching Sports This Winter (Photos)
Instagram
For as long as anyone can remember, beer and sports have been the perfect couple -- eat your heart out, peanut butter and jelly.
And one of the best things about beer is, like sports, it's seasonal.
Sure, you have your year-round brews, but there's nothing like waiting for the better parts of the 12 months to taste the richness you know is only available for a limited time. Just like how you're sitting there in July dreaming of touchdowns and snow-covered stadiums.
In the warmer months, it's all about Kölschs, Wheats and Pilsners. When the days get shorter, it's all about Stouts, Dubbels and Winter Warmers.
And now, as the leaves are dropping like flies and the warmth of a fire sounds better than almost anything, it's time to crack into those big, bold beers we've waited so long for.
Winter is coming. Stop counting carbs and calories.
Whether you're kicking back on the couch or braving the elements to head to your favorite pub, here are 15 beers you need to be drinking while watching sports this winter... and pretty much every other activity outside of work.
Ommegang Abbey Ale
A burgundy-colored brew that's rich and fruity, Ommegang's Abbey Ale is the perfect cold-weather beer to watch football with this season.
And at 8.2 percent, whether your team wins or loses, you'll still feel like a champion. Hell, depending on how many you have, you may not even remember who won.
Full Sail Brewing Company Wassail Winter Ale
One sip of this Oregon native and you'll pick up deep notes of dark chocolate and caramel. The perfect blend of hops and malt, Full Sail's Wassail will leave you feeling like you're sitting right next to the fireplace, whether your sh*tty studio apartment has heat or not.
As long as you have delicious craft beer and sports, what else can you ask for? Well, maybe a pair of wool socks wouldn't hurt.
Affligem Noel Christmas Ale
In case you couldn't tell from its style and heavy alcohol content, this Belgian seasonal will literally sweep you off your feet with its subtle cinnamon aroma and dark fruit flavor.
So when your team ends up blowing a 14-point lead in the divisional round of this year's NFL playoffs, at least you won't be able to feel the agony of defeat... literally.
Deschutes Jubelale
This "festive winter ale" will overwhelm you with its earthy aroma and brown sugar flavors. And at 6.7 percent, it's definitely a brew you can have multiple of over the course of an entire hockey, basketball or football game.
Boulevard Rye-on-Rye
There's a spicy sweetness in this beer, which is enhanced because it's brewed in charred oak rye whiskey casks. Is your mouth watering yet?
Be careful, though, because at 12 percent this limited seasonal could leave you KO'd before the second half of the football game even starts. The phrase "drink responsibly" should really be heeded here.
Thirsty Dogs 12 Dogs Of Christmas Ale
If you're into the seasonal flavors of cinnamon, ginger, honey, caramel and nutmeg, Thirsty Dog's 12 Dogs Of Christmas needs to be on your must-try list this winter.
And at 8.3 percent, it won't kill you to sip on a few of these while watching the NBA's five-game showcase on Christmas day.
Anchor Christmas Ale
Never brewed with the exact same recipe twice, this winter seasonal has become a yearly tradition in many a home... or maybe I just drink many of them in my home.
Either way, Anchor's Christmas brew never disappoints and it's the perfect beverage to enjoy while watching the miracle marathon that is NFL Wild Card Weekend.
Troegs Mad Elf
I can speak from personal experience and tell you one too many of these and you will indeed go mad. And by "go mad" I mean fall asleep at the table at your own birthday dinner.
This 11 percent seasonal delight delivers flavors of cherry and honey, but because of its high alcohol content, it's anything but overly sweet. Perfect for turning up for the College Football Playoff.
Ayinger Celebrator Dopplebock
With a malty sweetness, highlighted by caramel and toffee notes, Ayinger's Celebrator Dopplebock is the consummate holiday-time beer.
At 6.7 percent, this German export is perfectly suited for a full day of college football bowl games and a night of NBA action.
North Coast Old Rasputin Imperial Stout
Coffee and chocolate are the overwhelming flavors you'll find in this boozy stout. It's brewed in the tradition of 18th century England, which, fun fact, provided beer to the Russian court of Catherine the Great.
This creamy, smooth drink is just what you need for those overtime games in December and January, when it gets late early.
21st Amendment Fireside Chat
A roasty, toasty package that comes in the rare convenience of a can, Fireside Chat is that beer you want to curl up with after trying your own hand at a little touch football and realizing you're much more suited to watching sports than playing.
Allagash Curieux
This award-winning beer is aged in Jim Beam bourbon barrels for eight weeks. Coconut, vanilla and, of course, bourbon are the flavors you'll be hit with after your first sip.
Save this one for your team's finale, whether it's a playoff game in the tundra or a meaningless Week 17 game in sunny Miami.
Brouwerij St. Bernardus Christmas Ale
Molasses, apricots, licorice and marzipan are the flavors that emanate from this spicy Belgian brew.
Not a beer you can pound every Sunday, even in the later weeks of the NFL season, this thing should be reserved for when you're chilling dolo, watching a game alone at the crib.
Southern Tier Krampus
You remember Krampus, right? The evil partner of Jolly Old Saint Nicholas who would really know if you were naughty or nice. Well, Southern Tier's Krampus seasonal is certainly nice but definitely a little naughty.
A taste that offers pine and citrus, Krampus is good for a full day of sitting on the couch watching NBA action, just make sure you're not driving anywhere anytime soon.
Founders Breakfast Stout
Hands down one of the best beers I've ever enjoyed. Founders Breakfast Stout is brewed with chocolates and two types of coffee, and it's the traditional stout lover's beer of choice.
This one, as the name suggests, is made for watching some mid-morning EPL soccer, as well as a full day of NFL games.