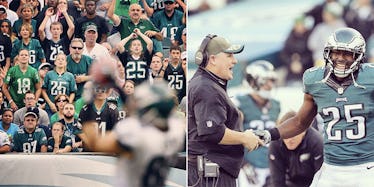 Will Chip Kelly's Quest To Become The NFL's Mad Scientist Work?
Instagram
The last week has been like nothing the NFL offseason has ever seen. Much of that is due to the wild and somewhat baffling moves made by Philadelphia Eagles' head coach, Chip Kelly.
Kelly has only been in the NFL for two seasons, and people have run out of different ways to call him a genius. The praise given to Kelly is usually reserved for only the likes of Bill Belichick, not someone who hasn't won a playoff game yet.
Heaping praise on Chip Kelly isn't unwarranted, as he has impressively won 21 games in his first two seasons in Philadelphia.
The fact that he has achieved such success with a system relatively new to the NFL, a mediocre defense and three different quarterbacks, is a feat.
Kelly's early run was so widely regarded that no one blinked an eye when he was recently put in charge of football operations for the Eagles, which is usually a job reserved for someone with more experience.
In his first move in charge, Kelly shocked the league by trading his star 26-year old running back, LeSean McCoy, to Buffalo for his former college linebacker, Kiko Alonso.
Besides the jokes about Kelly acquiring all of his old college players, there was mostly praise for getting rid of an expensive player at a position that is being devalued.
Getting rid of McCoy just one season after releasing DeSean Jackson is a statement that this is Kelly's team, and he wants players who specifically fit into his system.
With the shedding of McCoy's salary, the Eagles instantly became a team to watch in free agency. They didn't waste any time as they quickly snagged the most unknown member of Seattle's Legion of Boom, Byron Maxwell.
The price for Maxwell wasn't cheap; it cost them $25 million in guarantees. He fits maybe the Eagles' biggest need, but it's big money for a guy who's been surrounded by All-Pros.
There is the possibility that without the protection of the other Legion of Boom members, Maxwell could be exposed.
The first real sign of trouble for Kelly this offseason was when Frank Gore backed out of a commitment to join the Eagles and replace McCoy. Despite his age and the miles on his tires, Gore would've been the ideal back for Kelly.
Reportedly, Gore's change of heart had to do with both the uncertainty in the quarterback position and Kelly's style. McCoy even says he called Gore, which surely didn't help the Eagles.
All of those moves could go either way and won't necessarily define Kelly. However, the shocking trade he struck with the Rams on Tuesday will be a true test of Kelly and his system.
Amidst a flurry of moves in the NFL (that had Twitter going crazy) came the biggest head scratcher: The Eagles traded their incumbent quarterback, Nick Foles, for former number one pick, Sam Bradford.
If this were just a one-for-one trade, it would be confusing enough from the Eagles' standpoint. Bradford is, roughly, 13 times more expensive than Foles this season, and he has dealt with major injuries almost every season he has been in the NFL.
Additionally, Foles is only one injury-shortened season removed from throwing for 27 touchdowns and only two interceptions while leading the Eagles to the playoffs.
Initially, the NFL insiders all seemed to be reporting the Eagles would be receiving draft picks from the Rams, which would make the deal a little more understandable. Then, it was finally announced that it was the Eagles sending a second round pick out.
Having to give up a second round pick in addition to Foles for Bradford was bad enough, but the move also effectively ended any chance of Kelly being able to trade up for his former college quarterback, Marcus Mariota.
Nobody has run Kelly's system better than Mariota, and trying to acquire him would be a costly but more sensible risk than Bradford.
After it seemed Kelly was committed to going cheap at running back, and trusting his system to do the heavy lifting, the Eagles have gone out and signed last year's leading rusher, DeMarco Murray.
While Murray is a great player, this move is a true head scratcher for various reasons. Murray was great for the division rival Cowboys, but this was the first season he stayed healthy throughout. His performance came behind the league's best offensive line.
Murray was a true workhorse back last season, in a world where most teams are using multiple backs. The Eagles already have Darren Sproles, and yesterday, they also signed Ryan Matthews for decent money.
Having a three-back system makes sense for a team that runs as many plays as the Eagles do, but paying Murray workhorse money to be in such a system doesn't.
We're not even a full week into free agency, but the moves Kelly has made will either prove him to be a genius or, of course, a failure.