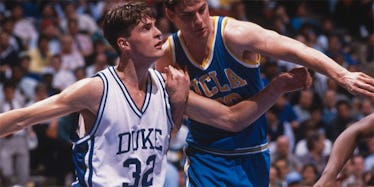 Why Duke Loves Christian Laettner And Why We Need More Players Like Him
Twitter
Any Baby Boomer could tell you the exact spot they were in the day JFK was shot, or when Neil Armstrong took his giant leap. Remarkable events tend to elicit picture-perfect memory.
Fantastic triumphs and unspeakable tragedies have defined our history, and everyone has a story.
In the world of sports, March 28, 1992 was one of those days and I, like so many others, will never forget where I was when Christian Laettner pulled off the unthinkable against Kentucky.
Despite growing up 2,400 miles away in Northern California, I was born and bred a Duke Blue Devil. In 1969, the same year Christian Laettner was born, my father decided to enroll at the small, private university in Durham, NC.
As a working-class immigrant and the son of an educator, my father had a tough time understanding the notion of college athletics.
Yet, with 2.1 seconds left in the 1992 East Regional Final, there were few things on this planet more important to him than Grant Hill's throwing arm and whoever the hell he was going to pass that ball to.
You know how it ends. I was just 5 years old was sitting on our living room carpet. After Laettner's shot, my father lost his you-know-what, and I became transfixed by all things Duke basketball.
From then on, our love for the Blue Devils came to symbolize the immense bond we had together. I was able to follow his footsteps at Duke and was still on campus when the Devils won their fourth national championship in 2010.
Of course, I called my father to celebrate. We talked about Coach K's legacy and Gordon Hayward's shot that wasn't meant to be. More importantly, we talked about a different shot, "The Shot," which started it all for us.
Last Sunday, ESPN aired another installment of its critically-acclaimed 30 for 30 series, titled, "I Hate Christian Laettner." For the non-Dukie, this was an appropriate title.
Why would anybody not hate Christian Laettner? To many, he was the walking embodiment of why people hated and continue to hate Duke.
He was a lanky, blue-eyed pretty boy with perfect hair who was arrogant and tough-as-nails. He played for a school comprised of students often described as "entitled," and a coach many claim to be "self-righteous."
But, the main reason Laettner garnered so much hatred was because he was good. He was damn good.
He played in four straight Final Fours, won two national championships and was impossible to ignore on and off the court. In college, he outshined the likes of Shaquille O'Neal, Alonzo Mourning and Michigan's Fab Five. Oh yeah, and he was a member of the Dream Team.
A segment of "I Hate Christian Laettner" focuses on one of the most notorious moments of his career, like "the stomp" on Kentucky's Aminu Timberlake (I'd say it was more of a "love tap").
Kentucky fans/Duke haters love to point out that Laettner should not have even been on the court for "The Shot" because of his unsportsmanlike conduct. What they conveniently forget, however, was Deron Feldhaus shoving a defenseless Laettner from behind onto the court less than 60 seconds prior.
Feldhaus would have gotten a five-minute major had it been the NHL, yet for some dumbfounding reason, he wasn't penalized.
Laettner claims he initially thought Timberlake had shoved him, not Feldhaus, and "the stomp" was meant to show he wouldn't back down.
Sure, it wasn't the right thing to do, but Laettner was far from unprovoked. This was not an isolated incident, either. Laettner had endured significant harassment during his career.
Despite being heterosexual, Laettner had homophobic chants yelled at him during a game at LSU earlier that year. If that game had been played in 2015, the media would have had a field day condemning LSU fans, not Laettner.
Furthermore, the sports world has largely ignored the truth of Laettner's upbringing. It is widely assumed he was born with a silver spoon in his mouth.
However, the film documents his "blue-collar" upbringing in Buffalo, New York. Though he attended an exclusive prep school, it was only made possible through a financial aid package that required Laettner to complete janitorial work while being a student.
How can you hate someone who was forced to clean up after his own classmates in high school? Laettner has become the poster boy for unjustifiable hatred aimed at Duke and its students.
Like Laettner, the perception of Duke students is very far from reality.
Many students do not come from wealthy backgrounds. In fact, 50 percent of the student body receives financial aid. Yet, personalities such as Andy Bagwell (the author of "Duke Sucks") and Peter Rosenberg (who created the YouTube film "This is Why Duke Sucks"), still argue that Duke, for lack of a better word, sucks.
Besides the fact that two grown men dedicating their lives to insulting 18- to 21-year-old kids is pathetic, they seem to have rather short-sided arguments.
Laettner is nowhere close to being perfect, and he is by no means the prototypical "role model" for children (after all, he did have struggles with substance abuse during his NBA career). Yet, the public's vitriolic hatred of him is still monumentally unfair.
In this modern era of scandals involving domestic violence, performance-enhancing drugs and student athletes enrolling in fake classes (ahem, UNC), it's hard to deride him personally.
Later today, I will sit down with my father in the same living room we saw Laettner achieve immortality to cheer on our Blue Devils.
Ironically, it is the juggernaut Kentucky Wildcats who stand between Duke and a fifth title. Regardless of how Duke fares in this year's edition of March Madness, we will always remember that day, 23 years ago, when the sports world stopped dead in its tracks.
For that, I will always love Christian Laettner.