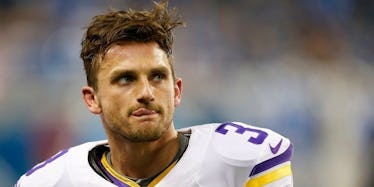 These Vikings Fans Losing Their Sh*t Will Make Your Monday Way Better (Video)
Getty Images
By now, you should've seen the unbelievable ending to yesterday's Seahawks-Vikings wild card game. If you didn't, though, it can be summed up in two words: field goal.
As in, the 27-yard chip shot Minnesota kicker Blair Walsh missed with 26 seconds left in the game, costing the Vikings an all-but-certain victory against Seattle.
Walsh, who successfully converted three out of four field goal attempts yesterday, took complete responsibility for the loss, refusing to blame his miss on the facts that the holder had the laces facing inward instead of outward and the temperature in Minnesota was -6 degrees.
Vikings fans were also of the opinion Blair Walsh should take sole responsibility for yesterday's loss, and these ridiculous reaction videos prove it.
Look away now, Vikings nation.
Warning: Missing a 27-yard, game-winning field goal will result in a broken cane.
Blair Walsh owes this guy a new cane pic.twitter.com/ZxG5ufpQsZ — Barstool Sports (@barstoolsports) January 10, 2016
This Vikings fan refused to watch Walsh's kick, but that didn't spare him any disappointment.
Blair Walsh could learn a thing or two from this dude.
Vikings fans are taking the loss well pic.twitter.com/yd8RijYVNb — Barstool Sports (@barstoolsports) January 10, 2016
Do you think that sound is the dog sniffing or this Vikings fan sobbing?
Blair Walsh actually killed this man pic.twitter.com/9EVvzpMSIO — Barstool Sports (@barstoolsports) January 10, 2016
To be fair, this is probably the most appropriate reaction after taking a loss like that.
Every @vikings fan right now pic.twitter.com/JGLBaq0xyT — Danny Anderson (@Dannyranderson) January 10, 2016
We're all so fortunate the person in the back of this bar was holding a phone and recording.
To be a Vikings fan #VikingsvsSeahawks @sportspickle pic.twitter.com/8zX0bAaDac — Mike Stuart (@Mr_MStu) January 10, 2016
How many yards was that Blair Walsh field goal attempt?
Vikings fans be like pic.twitter.com/pNMTAJBtfA — Brenden Harthun (@BigBoiHarthun) January 10, 2016
Chloe probably got it together for work this morning...maybe.
All Vikings fans right now pic.twitter.com/rNJTNSOdot — Grace Batta (@Grace_Batta) January 10, 2016
Safe to say, this guy isn't heading up the Blair Walsh fan club anytime soon.
I'm really getting a kick (har har) out of these Vikings fan reaction videos. https://t.co/PgpvLKePpd — Benjamin Woodard (@benjamdub) January 11, 2016
Vikings fans in South America had the same reactions as those in Minnesota.
The reaction from Vikings fans in Chile pic.twitter.com/b6z1tp7Fek — RushCardashian (@RushCardashian) January 10, 2016
You know this dude hurt himself while convulsing in response to the epic miss.
Blair Walsh nearly killed this man pic.twitter.com/zeFAH3AQe9 — Barstool Sports (@barstoolsports) January 10, 2016
As a bonus, this Adele parody might be harder to watch for Vikings fans than Walsh's fail.
Happy Monday, everyone.
Citations: Compilation Of Hilariously Sad Reactions Of Vikings Fans After Missed Kick (Daily Snark)