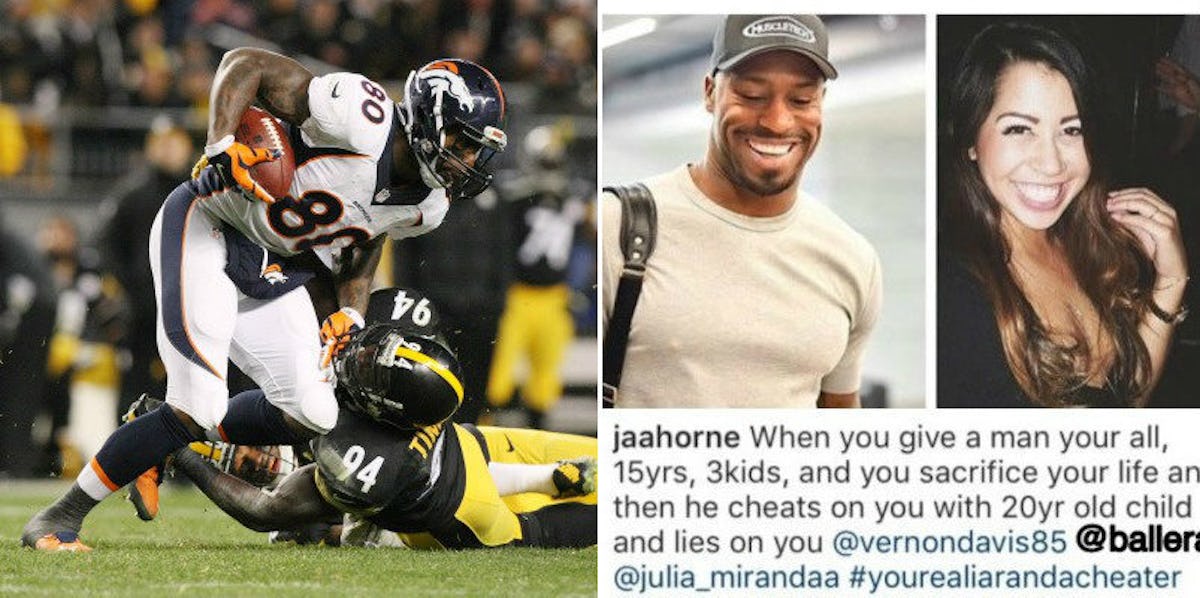 NFL Player's Fiancée Calls Him Out For Allegedly Cheating With A 20-Year-Old
Despite becoming a Super Bowl champion last season with the Denver Broncos, the last few years haven't been easy for veteran NFL tight end Vernon Davis.
The 32-year-old was a bonafide superstar with the San Francisco 49ers, but he's become something of a shell of his former self the last two seasons.
Monday, sh*t got to a whole new level of bad for Davis, though, when his fiancée called him out on Instagram for cheating on her with a 20-year-old "child."
The caption on Janel Horne's, aka Davis' fiancée's, Instagram post reportedly read,
When you give a man your all, 15yrs, 3kids, and you sacrifice your life and then he cheats on your with 20yrd old child and lies on you.
Yikes! Looks like the Washington football team's new tight end is catching more heat from Janel Horne than his quarterback, Kirk Cousins.
In addition to her words, Horne also appeared to tag Davis and his alleged mistress on Instagram. It looks like she used #yourealiarandacheater, #youwantedtobeoyighereyougo, #lowselfesteem, #imoverit and #nothidingbehindyourlies to express her feelings.
We've seen NFL players aired out by their scorned lovers before on Instagram, but there's something about Horne's post, with Davis and the alleged 20-year-old smiling side by side in the photo, that really drives the intended point home on this one.
Citations: Vernon Davis Gets Put On Blast By His Fiancée On Instagram For Cheating On Her With A 20-Year-Old (BroBible)