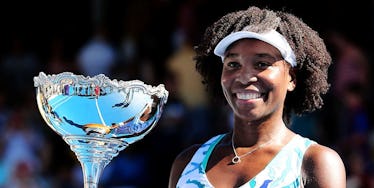 3 Things Venus Williams Can Teach Us About Dealing With The Haters
Getty Images
Last year, Serena Williams returned to play the Indian Wells Masters for the first time since 2001.
Now, it's her big sister's turn.
You may not be familiar with Indian Wells, a California tennis tournament because it's not one of the sport's four annual Grand Slam events.
However, you need to know what happened there to the Williams sisters back in 2001 so you can understand what it means for Venus to join her sister and end the family's boycott of the tournament.
Venus and Serena were scheduled to play each other in the 2001 semifinals of Indian Wells, but Venus withdrew from the match just moments before the sisters were slated to take the court.
The predominantly white crowd -- this is a tennis tournament in a relatively wealthy area of southern California -- began aggressively booing, clearly seeing Venus' decision to pull out of the match as giving her sister a free pass to the final.
Richard Williams, the sisters' father, alleged a knee injury forced Venus to withdraw, but as you can imagine, there was plenty of speculation from players, media and fans that this was a calculated move.
In the final, Serena defeated Kim Clijsters to win the title, but as Richard and Venus Williams walked to their seats as spectators for that match, they were greeted with a chorus of boos.
Speaking on the incident, Richard Williams told USA TODAY Sports,
When Venus and I were walking down the stairs to our seats, people kept calling me [expletive]. One guy said, 'I wish it was '75; we'd skin you alive.' That's when I stopped and walked toward that way. Then I realized that (my) best bet was to handle the situation non-violently. I had trouble holding back tears. I think Indian Wells disgraced America.
The Williams promised never to compete again at the California tournament.
Last year, for Serena, that decree came to an end. On March 7, Venus will follow in her younger sister's footsteps.
Here's what the rest of us can learn from Venus' decision to finally turn the page on this 15-year chapter of her life.
Forgiveness
In a recent article for The Players' Tribune, Venus Williams explained her decision to return to Indian Wells this year.
She wrote,
When Serena decided to play Indian Wells last year, I was so proud of her. She hadn't set foot onto the grounds since our 2001 tournament — neither of us had. Leading up to her decision, Serena told me that she had been reading a lot about Nelson Mandela. She had been learning about him, thinking about him — processing all of these complex questions about his journey and his principles. About forgiveness.
Forgiveness is a funny thing. On some level, I think there are quite a few people who believe you can't truly forgive someone until you make peace with yourself; until you don't hurt anymore. Often times though, and I think this is very much the case for Venus and Serena, you have to forgive in the hope it will allow you to make peace with yourself.
The crowd that greets 35-year-old Venus Williams at Indian Wells 2016 will not be the same crowd that booed her 15 years ago. Even if some of the exact same people attend this year's tournament, it still won't be the same.
People change.
In order for Venus and Serena to truly reconcile with what took place 15 years ago, they had to return to where it all began. They had to forgive those who were angered and blinded by hate, those who where quick to judge.
Letting go
Despite supporting Serena at last year's tournament, Venus was still unsure she'd ever be ready to play Indian Wells again.
In The Players' Tribune article, Venus wrote,
I watched her and I cheered for her. And I was so, so proud. But as proud as I was, the truth is, my personal feelings hadn't changed: I didn't think that playing Indian Wells again was something I'd ever do.
Venus goes on to explain how her tendency to internalize things is probably what led her to harbor her resentment for Indian Wells over the years. She couldn't understand why thousands would heckle and hiss "a 19-year-old and a 20-year-old, trying their best."
But, Venus came to realize that what she's been carrying with her all these years isn't the memory of what was said to her, so much as how she felt hearing it.
She wrote,
I remember the hurt I felt. I remember my confusion and disappointment and anger. I remember how the coverage of it at the time didn't seem concerned with me and Serena, as people, at all — but rather only with the story itself. And with the version of the story that would get the most attention, regardless of the truth. I remember feeling that I had been wronged, and that I had done nothing wrong. I remember feeling that I had unfairly gotten the brunt of the blame for a bad situation... Not feeling welcome somewhere is a hard memory to let go of — at any age. At 20? It's almost impossible. And so that's what I did. I held onto it.
But that's exactly what she's going to do at this year's tournament; Venus is going to let her memory go. Sometimes, we all need to let go in order to get back more than we ever thought possible.
Do what you love
Speaking on her upcoming return to Indian Wells, Venus wrote,
As the tournament draws nearer, I'm looking more and more forward to it... I'm looking forward to the top-notch WTA competition. And I'm looking forward to the fans — who played such an important role in helping to make last year so special. But most of all, I'm looking forward to playing tennis. Sounds simple — I know. But after almost 30 years of playing this sport, I've learned something. I've learned that, no matter what happens, or happened… or where you are, or where you've been… at the end of the day: tennis is tennis. It's always, always tennis. And there's nothing better.
Life is short and the career of a pro athlete even shorter. Venus will only get so many more opportunities to compete on the world's biggest stages, and if she continued to boycott Indian Wells, she would've probably ended up regretting it in the end.
Don't allow others to take the joy from your life. You know who taught Venus that?
She wrote,
Actually, funny story — it was the greatest player in the world. I'm her big sister.
Citations: Why I'm Going Back to Indian Wells (The Players' Tribune), Serena Williams ends Indian Wells boycott, 14 years after racist incident (For The Win), 2016 BNP Paribas Open Entry Lists Headlined By 10 Former Tournament and 14 Grand Slam Singles Champions (BNP Paribas Open)