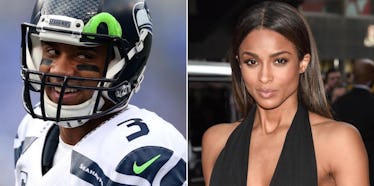 People Are Now Giving Ciara Credit For Russell Wilson Playing On Fire
Getty Images
Seahawks fans' views toward Ciara were all so different a few months ago.
Back when Seattle started the season 0-2, people hopped on Twitter to point to Ciara's relationship with Russell Wilson as the team's downfall.
I really hope that after the game today Russell realizes that Ciara is a huge distraction and breaks up with her :) — megs (@Megan_Rosalina1) September 14, 2015
@ciara get away from russell — Charles Lingat (@CharlesLingat) September 13, 2015
If the Seahawks are crappy this year, Ciara has got to gooooo!!!!!! — Phyllis E. Russell (@MotownPhylly) September 13, 2015
Well, the Seahawks aren't crappy this year (anymore), and Ciara isn't going anywhere. If anything, her relationship with Wilson looks like it's intensifying. https://instagram.com/p/_auOOPSHsU/embed/
So, since the Internet always has to make sense, it's only right fans come out of the woodworks to start thanking Ciara for Wilson's recent out-of-this-world performances.
Instead of sending hate tweets, Seahawks fans are finally showing Ciara love.
Russell Wilson must be having a good time with Ciara. — Chris :RED THE SHOW (@ChrisN_No) December 21, 2015
Ciara done put Russell all the way on the come up https://t.co/FcTCnqB0x1 — Geneva (@FiercelyFitbyG) December 21, 2015
Much respect to Russell Wilson he ballin Ciara got that boy on a wave 😂 — #HTTR (7-7) (@RalphyGabbana) December 20, 2015
19 touchdowns in the last 5 weeks for Russell Wilson. Shout out to run after the catch; and the magical powers of @ciara. — Jason Goff (@Jason1Goff) December 20, 2015
Maybe it's her cooking that's behind the Seahawks five-game winning streak...
Idk what Ciara been feeding Russell Wilson lately but thank you — K (@K_Clamp22) December 20, 2015
...or maybe it's her "good luck" charms.
Atta boy Russell Wilson. Ciara definitely gave him some good luck pic.twitter.com/XlfvHXRv5m — Danno~USC (@Dahanfling) December 21, 2015
Of course, some people took the low-hanging fruit of all explanations.
I think Russell gave into his abstinence policy with Ciara! #Hehitthat https://t.co/H5eM8Sy8kX — Stephanie Marie (@St3ph3rs_83) December 21, 2015
Whatever it is, people are fine with just wanting it to go on 'til the Super Bowl.
Dear @ciara, Whatever you are..or not doin to Russell right now, please keep it up until after the Super Bowl. Sincerely, Hawks fans. — Zack Peggins (@ZPeggins) December 20, 2015
And now, everyone's starting to realize just how dumb those "Ciara curse" jokes were in the first place.
Quiet for all those Ciara, Future jokes, Russell Wilson going OFF RT @krissybri: …and just like that, the Seahawks are playoff bound. Wow. — Shaina Auxilly (@Shay_Marie) December 21, 2015
Being that Russell Wilson is on the verge of NFL QB history, the Ciara Curse can b put 2 bed 4 the time being... @BSO — John Anthony Ashley (@JohnNYC_718) December 20, 2015
Remember when ya'll said Russell Wilson was cursed because of Ciara? LOL I don't think so... — SB (@saunjbaron) December 20, 2015
So, don't be shocked if you see this man in the Super Bowl for a third straight year...
Russell Wilson throws 3 TD as Seahawks top Browns, 30-13. Seattle clinches playoff berth for 4th straight year. pic.twitter.com/uGdgC0Rg6b — SportsCenter (@SportsCenter) December 21, 2015
...or when his favorite girl is right there, too.