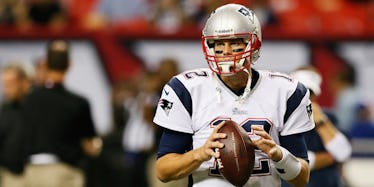 Tom Brady Admitted To Liking Deflated Balls In A 2011 Radio Interview
Getty Images
Tom Brady and the New England Patriots have dominated headlines in the wake of the Deflategate punishment.
Brady received a four-game suspension to start the 2015-2016 season while the Patriots organization was fined $1 million and stripped of two future draft picks.
Following the NFL's handing down of the punishment, former NFL quarterback AJ Feeley said Brady and the Pats used deflated balls as far back as 2004.
The latest revelation, according to reports, is Brady admitted to liking deflated footballs in 2011.
In an interview with WEEI radio where he addressed one of Rob Gronkowski's monster spikes, Brady said,
I didn't see it. I mean, he spikes it every time he scores, so I don't know if that's flagrant or what... When Gronk scores – it was like his eighth touchdown of the year – he spikes the ball and he deflates the ball. I love that, because I like the deflated ball. But I feel bad for that football, because he puts everything he can into those spikes.
Well, maybe it's the ball that feels bad for Brady now.
Citations: Tom Brady admitted in 2011 that he likes the deflated ball (CBS Sports )