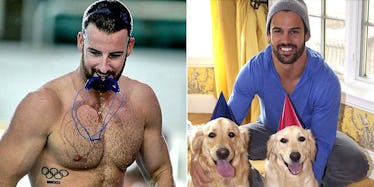 In Time For Valentine's Day, Here Are The Best Looking Male Athletes
Facebook
With Valentine's Day right around the corner, many singles are starting to panic or wonder if and who will be their valentines this year. Have no fear, ladies; there are plenty of fish in the sea.
Or, should I say, plenty of athletes to be in love with?
It's no secret every girl has a soft spot in her heart for athletes. It's in their determination, passion and way they keep in shape that makes every girl swoon.
So, here, I present to all you single sports lovers, the best of the best when it comes to mixing athletes and valentines. Sorry in advance, as some of these men are taken -- but that doesn't mean their good looks still can't be honored!
Gerard Piqué, Pro Soccer Player
Twitter: @3gerardpique
Team: Spain and FC Barcelona
Age: 28
The center back is a media darling due to his boyish good looks and the fact that he's won every major tournament, including the Champions, the Premier League, the World Cup and the European Super Cup.
Relationship Status: His girlfriend is Colombian pop singer Shakira.
Luis Suárez, Pro Soccer Player
Twitter: @luis16suarez
Team: Uruguay and FC Barcelona
Age: 27
One of the biggest scorers of the season, Suárez tallied 31 goals for Liverpool this year, winning him the prestigious European Golden Shoe.
Although talented, there are records of several biting instances. But, hey, at least he's cute.
Relationship Status: He's married to his childhood sweetheart, Sofia Balbi. The two met when he was only 15.
James Magnussen, Olympic Swimmer
Twitter: @james_maggie91
Country: Australia
Age: 23
He's the current 100-meter freestyle world champion, and this stud holds the fourth fastest swim in history with a 47.10. His talent speaks for itself and his perfect abs and dreamy eyes are enough to capture anyone's heart.
Relationship Status: Back in 2012, he was linked to girlfriend Andrea Patrulescu, but the two have been rumored to be on-again, off-again for sometime now.
Ryan Lochte, Olympic Swimmer
Twitter: @RyanLochte
Country: USA
Age: 30
Notorious American bad boy of swimming, Lochte's talent and confidence in the water, combined with his good looks, make women everywhere fall for him.
Relationship Status: He's rumored to be hooking up with multiple starlets, but no relationship has been confirmed.
Alex Wennberg, NHL Player
Twitter: @wenniss
Team: Columbus Blue Jackets
Age: 20
Drafted in round one in 2013, this young heartthrob has been making his presence known in the NHL ever since. The Sweden native has been stealing the hearts of both European and American fan girls.
Relationship Status: Unfortunately, he's taken.
Brendan Smith, NHL Player
Twitter: @bssmith7
Team: Detroit Red Wings
Age: 24
Originally from Canada, this talented and extremely goofy hockey guy is both athletic and adorable, which easily makes girls all over North America fall for him.
Relationship Status: Single.
Cam Newton, NFL Player
Twitter: @CameronNewton
Team: Carolina Panthers Quarterback
Age: 25
Not only is Cam Newton extremely talented, but also, his dimples and humble attitude are just two more reasons why this player is considered America's sweetheart.
Relationship Status: Although he's been linked to a few women in the past, Newton has never officially acknowledged any relationships to the press.
Eric Decker, NFL Player
Twitter: @EricDecker87
Team: New York Jets
Age: 27
Multitalented Decker played both football and baseball during his time at the University of Minnesota.
With a recent move to New York, Decker not only has talent, but also makes fans fall in love with his good looks and extremely well-kept hair.
Relationship Status: Decker is married to country singer Jessie James, and the perfect pair now have their own reality show on E!
Matt Harvey, MLB Player
Twitter: @MattHarvey33
Team: New York Mets
Age: 25
The Met's pitcher is committed to his sport and knows how to make his presence known with both talent and boyish good looks.
Relationship Status: He was dating supermodel Anne V, but they broke up recently after a few weeks "on the rocks."
Will Middlebrooks, MLB Player
Twitter: @middlebrooks
Team: San Diego Padres
Age: 26
Although Middlebrooks left Boston, he's taking his talent, passion and good looks to San Diego. As one of baseball's sweethearts and all-around good guys, Middlebrooks knows how to treat the women in his life right.
Relationship Status: He's engaged to former Red Sox sideline reporter Jenny Dell.
Shannon Brown, NBA Player
Twitter: None
Team: Miami Heat
Age: 29
Drafted in 2006, Brown has played for several teams during his NBA career, such as the Cleveland Cavaliers, Chicago Bulls, Charlotte Hornets, LA Lakers, Phoenix Suns, San Antonio Spurs and the New York Knicks, all before ending in Miami.
Regardless of the city, his skill and smile will always draw the crowds and female hearts in for the games.
Relationship Status: He's been happily married to singer Monica since 2010.
Jonas Jerebko, NBA Player
Twitter: @JonasJerebko
Team: Detroit Pistons
Age: 27
Born in Sweden, he was drafted into the NBA in 2009. Recently, he has been dominating the games and gaining media attention for his intensity while on the court.
He also always seems to be gaining attention for his European charm and good looks.
Relationship Status: As far as the public knows, he's single.