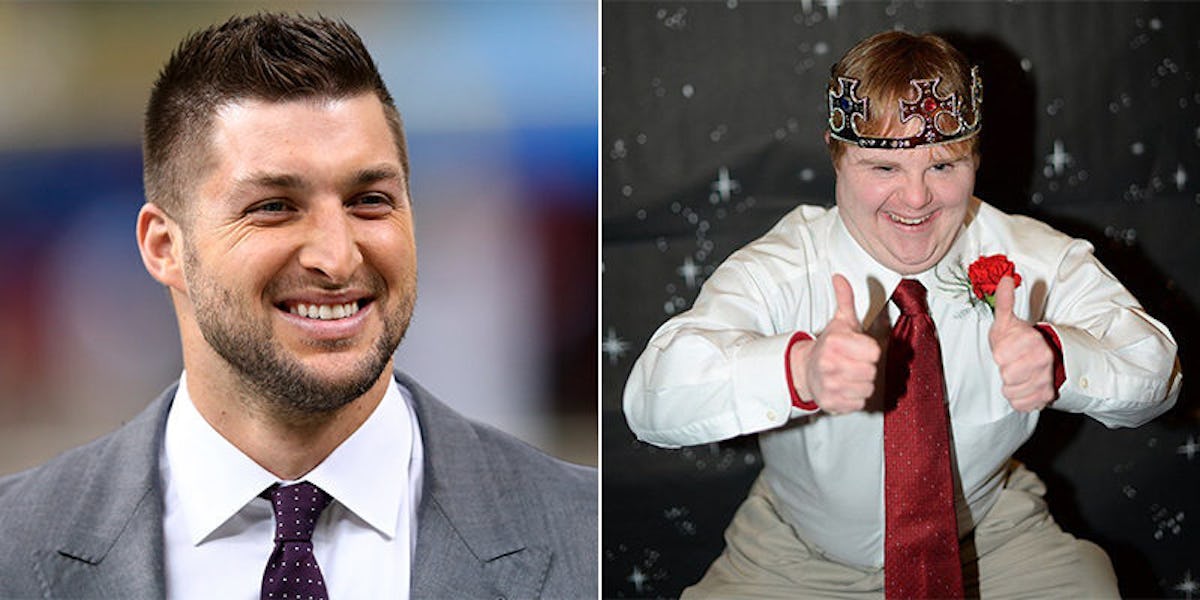 Tim Tebow Will Host Proms For People With Special Needs All Over The World
Getty Images/Tim Tebow Foundation
From throwing game-winning touchdowns to allegedly dating Olivia Culpo, Tim Tebow has done it all.
Now, he's giving others the chances to live their dreams. Last Valentine's Day, the Tim Tebow Foundation reportedly hosted 44 proms across 26 states and three countries for over 7,000 individuals with special needs.
This year, Tebow and his foundation are going to blow those numbers out of the water. According to a report, Tebow plans to host over 200 proms across 48 states and eight different countries.
#NightToShine a special needs prom sponsored by @TebowFoundation is only 1 month away! https://t.co/86ThfWGDLj pic.twitter.com/BBYRTyd6bu — FBCWoodstock (@fbcwoodstock) January 12, 2016
For the special events, invitees will arrive on dazzling red carpets, complete with "friendly paparazzi." After being whisked inside, guests will receive corsages and boutonnières and then dance the night away.
Tim Tebow Foundation #NightToShine Prom for Teens with Special Needs is Coming To #BocaRaton https://t.co/hoYVqYqm3b pic.twitter.com/XkVBQYaflt — WPEC CBS12 News (@CBS12) January 10, 2016
At the ends of the events, every guest will be crowned either prom queen or king.
Speaking of Night to Shine, Tim Tebow told PEOPLE,
Every time I think about it, I'm so humbled and amazed by the way God has continued to grow Night to Shine. I can't wait for February 12th; it's my favorite night of the year.
He added,
When I was 15 years old, I began to realize the importance of fighting for people who can't fight for themselves... As a foundation, we are so passionate about people with special needs, and this event is a great time to tell them how much they are loved by God and by all of us.
This is undoubtedly going to be one of the coolest events of the year.
Citations: Tim Tebow Is Organizing More Than 200 Proms for People with Special Needs (PEOPLE)