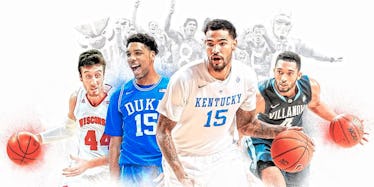 The Science Behind How You Should Fill Out Your March Madness Bracket
Brad Evans might not be a dating columnist, but he will be quick to tell you there is a right way and a wrong way to fall in love, particularly when it comes to Cinderella.
He told Elite Daily:
I think a lot of people get too giddy about upsets... Ultimately, when you're filling out your bracket it's important to pick a handful of upsets. Just don't go nuts.
And we're inclined to listen to him. As an expert bracketologist for Yahoo! Sports, Evans knows his stuff about March Madness.
That means even without the benefit of seeing the NCAA selection committee's full bracket, Evans was able to offer his advice on Friday to any college basketball enthusiast looking to fill out the perfect bracket.
Be it the expert or the casual fan, anyone can benefit from Evans uncovering the science of how you should fill out your March Madness bracket.
The Glass Slippers
Even though he advises against getting carried away with picking underdogs, Evans says there is a method to figuring out the madness of upsets.
He said,
At least one 12-seed has advanced beyond the opening round in 13 of the past 14 years of the NCAA tournament... In the second round, those 12-seeds that win that opening round matchup, right around 44 percent have advanced on to the Sweet 16. So if you're looking for a team to win a couple of games with a double-digit seed, usually it's the 12-over-5.
Indeed, the 12-5 matchup proved to be a tricky one recently. Just last year, three of the four 12-seed teams pulled off an upset in the opening round while the fourth, North Carolina State, lost a nail-biter to St. Louis by just three points.
Even if you're not the type to look at the past as an omen -- you'd rather pick out particular stats as a determining factor -- Evans has a tip for you, too. He advised,
The stat that you want to look at is offensive efficiency and where that team ranks nationally in that category. If they rank inside the, say, top 25 nationally in offensive efficiency, then I think that's a pretty good indicator typically of a team that can spring an upset.
Looking For The Gunner?
Some of the tournament's most memorable results have come from underdog teams who featured a star who went from really good to untouchable at just the right time, like Davidson's Steph Curry in 2008.
If you're looking for another, Evans offered one candidate: the North Dakota State Bison's Lawrence Alexander. Evans said,
If you remember last season, the Bison knocked off Oklahoma in their opening round matchup. [Alexander] dropped 28 points in that contest... That's a player definitely to watch out for who could be one of those out-of-nowhere gunners who could just get hot at the right time and carry his team to the promised land.
Evans wasn't exactly tipping NDSU to upset Gonzaga, who they face on Friday, but the thinking he applied in pointing to Alexander will make you wonder about a player like Eastern Washington's Tyler Harvey.
Harvey is the nation's top scorer and plays on the nation's third highest-scoring team. They will face fourth-seed Georgetown on Thursday in Portland, Oregon. Hmm...
Vulnerable Big Boys
You might think there are sure bets to rely on while navigating your way through a bracket, but Evans says there are a few big boys who may not be as dependable as you would imagine.
You might, for instance, lean on Kansas for the prestige as a program, their high seed and Bill Self's experience as a national championship winner.
But, Evans pointed to inconsistent guard play, a recent history of being upset and missing players among factors that could lead to the Jayhawks disappointing their fans. Evans said,
Kansas is one of those teams that historically has had its issues in the early rounds... They can be snake-bit again before the first weekend ends.
And even Kentucky might not be the most trustworthy pick. In fact, Evans says most teams who enter the tournament as favorites to win rarely end up cutting down the nets. He continued,
It's important when you're filling out tournament pick 'em pool sheet to zig when everybody else zags. I think Kentucky is probably one of those teams that 60 to 65 percent of the tourney pick 'em universe will pick to win the whole enchilada. But, I think a Virginia, I think a Wisconsin, I think even an Oklahoma could cut down the nets in Indianapolis and thwart everybody's hopes that Kentucky will do the exact same.
Underrated Factors
One perhaps obvious, but often overlooked, trait of a Final Four team is balance. Evans told Elite Daily,
In terms of longevity and success in the tournament, it's all about balance... Since 2000, all of the teams that have made it to the Final Four, they've averaged inside the top 20 in terms of overall national ranking in offensive and defensive efficiency.
When it comes to other underrated factors, Evans was also sure to mention fans should take a close look at the tournament's play-in round, where teams like Ole Miss and Dayton have the chance to earn an 11-seed.
The Yahoo! columnist pointed out those teams because of their potential to carry momentum from their play-in games on Tuesday into the main field of 64, which will begin play on Thursday.
And history backs up Evans' claim.
A First Four team has won multiple games in the tournament each year since its creation in 2011, including two S16 teams & one Final 4 team. — Austin Miller (@austinkmiller) March 16, 2015
There's also the factor of proximity to the tournament's neutral sites. Evans said,
Geography will play a factor. Kentucky probably won't play too far away from home overall. A lot of the higher seeds, they typically try to get a close to their hometowns as possible. But yes, it'll definitely play a factor overall.
And indeed, Kentucky won't be too far from their Lexington-based campus. The Wildcats are set to play in Louisville for the first two rounds, which makes an upset seem even more improbable.
Meanwhile, Duke is set to play within their home state of North Carolina at Charlotte's Time Warner Cable Arena. That extra sense of comfort at home might make them less susceptible to the type of first-round exit they suffered last year against Mercer.
Matchup Woes
What is, by far, the most reliable indicator of who can achieve what in March, though, is the different clashes in style.
To put it bluntly, Evans says:
The NCAA tournament is entirely about matchups.
It's all about who has the favorable pairings along their path to the Final Four. That means the best way of figuring out who might beat whom may be to look at key statistics and apply them to the way you view a certain game.
On that end, Baylor is one team Evans pointed out as an example of a team with a good defense that can fall to a particular offense. He said,
If they're facing a small team that has a ton of terrific and prolific outside shooters, the 2-3 zone may not actually work against it and Baylor might have to switch it up and play more of a man defense. So, that's just an example of how you can apply the analytics to the style of play and the scheme that specific teams run.
The overall message is clear. Look and analyze closely, then choose wisely.