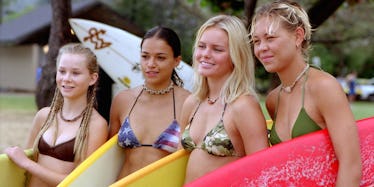 Surfer Chicks Are the Future Of A Male-Dominated, Billion-Dollar Industry
Universal Pictures
The biggest misconception about surfer chicks is that they just chill all day for the sole purpose of making us hate our lives by flexing on the 'gram.
True, a large part of surfing is posting up and waiting for the perfect wave, but these aren't women who let life pass them by.
In fact, they're some of the biggest risk takers, innovative thinkers and environmentally aware people in the world.
They're also the reason surfing is a billion-dollar industry, which started off as nothing more than a hobby, and will continue to grow into a global force that's actually making social change.
Surfing started with Polynesians, who rode waves as religion, and was mainstreamed in the 50s and 60s in Hawaii, California and Australia.
But since the beginning, women have paved their way into the culture and helped evolve the sport.
A Californian by the name of Mary Ann Hawkins is widely considered to be the first mainstream female surfer during the 1930s.
But it was Marge Calhoun who became the first women's surfing champion and set a new precedent for the rest of the industry.
She was inducted into the Huntington Beach Surfing Walk of Fame in 2003.
While many pioneers have helped pave the way, today's era of women's surfing is full of talented females getting the chance to go professional and travel like their male counterparts.
Pro surfers like Alana Blanchard, Anastasia Ashley and Sally Fitzgibbons have all made a career out of it and are spreading the culture in ways it wasn't known 30 years ago.
The most important mission for every surfer is to do what he or she loves and spread the passion of the sport.
Women play a very important role in the continued globalization of surfing. According to Krista Comer, author of "Surfer Girls in the New World Order,"
Surf industry is completely interested in girls, whether it's in the fashion dimension of surf industry, global media, the professional tour or elite competition, you have to think about girls today.
But it's not just about making surfing more marketable, it's about advancing the entire surfing culture to be more accepting of female surfers. Comer says,
They suggest that western world gender conventions are freeing and the California surfer girl in particular advertises to the world western globalization as a feminist means to an end of women's liberation.
Like females in nearly every field, these surfers face a different set of obstacles because of their gender.
Besides worrying about things like sharks and dangerous waves, they also have to deal with sexism in the water.
Competing for wave breaks is game of respect between surfers and in a male-dominated sport, it took some time to gain acceptance.
Comer explained,
Girls have brought critical perspective not just to norms of femininity, but also to the material places, to the oceans, to the reefs and jetties. The beach is where counter-femininities are enacted.
Women's surfing is far-reaching and is shaping social change in other countries.
In Bangladesh, women are condemned for making simple lifestyle choices, especially in surfing.
However, that never stopped Vanessa Rude, who not only continues to surf, despite being persecuted for defying the cultural customs, but she even opened her own surfing school to teach the young, local girls.
Keep in mind, this in a place that does not accept this type of behavior from women. Vanessa told the NY Times,
In Bangladesh, it's such a man's world. Being a woman doing anything by yourself, let alone in the water, is not normal. They work on the beach, and once they reach 12 or 13, it looks like they might be prostitutes. The community automatically assumes they're doing something promiscuous because they're alone, so their parents restrict them. Plus, they get teased and harassed all the time by men, even by those trying to help them.
Even in a deeply conservative community where men believe it is shameful for women to go to the beach, Vanessa is choosing to pursue her passion and sparking the change.
She is now one of the country's top surfers, regardless of gender, and believes surfing is giving the young girls in her home country more hope than ever. She said,
Once we got them in the water, they started to become more confident. Another change for them is that there's a community of young guys in the surf club who aren't trying to pick up on them, or tease them. Instead, the boys are encouraging them. They feel respected for the first time.
Women in sports are narrowing the gender divide every day, and in surfing it's no different.
Just like what's happening in the NFL with Jen Welter and in the NBA with Becky Hammon, females are bridging the gap in male-dominated sports industries everywhere.
We don't even have to talk about Ronda Rousey to know what she's done for women in mixed martial arts, but surfing is no different.
With more participation and female surfers in the future, we can soon expect another trailblazer to step up and make history.
Krista Comer said,
Surfing women are also interested in girls, in part because they want to recruit girls into the water to change the masculine bias of surf culture.
Surf culture will continue to grow and profit with more females surfing.
As women's surf culture continues to grow, we can expect the entire industry to grow exponentially as a result.
With more acceptance in the waters, plus the mainstream appeal women bring to the sport, Krista Comer believes
Surfer girls are poster children for new ideals of 21st century femininity... They have a far more complex relationship to both globalization and optimistic rhetoric about it.
But the bigger change comes from the surf culture itself.
The money the surf industry continues to make doesn't matter compared to how many lives it can affect.
The new opportunities, growth and inspiration it provides young girls is much more important. Surf culture is about being fearless, building the community and pursuing a passion.
Vanessa Rude explained,
They're skating, they're learning, they're life-saving and they're surfing. And so, the goal is for their families to see that difference in their daughters, and the attention they're getting. And that they'll start letting their daughters be more free to choose what they want. They deserve better.