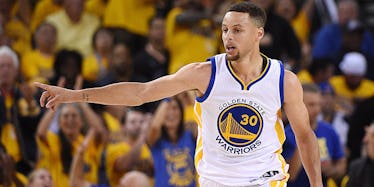 This Super Hot Warriors Fan Tried To Give Steph Curry Some 'Motivation'
USA TODAY SPORTS
If you actually watch Game 2 of the NBA Finals between Steph Curry's Golden State Warriors and LeBron James' Cleveland Cavaliers, you'll know it was a blowout.
Golden State hammered Cleveland by over 30 points, which means there wasn't much entertainment during the late stages of the game. That was until this happened.
After a Kentucky sports television host, TJ Beisner, took this screenshot of a super hot Warriors fan looking mighty thirsty at Curry and posted it on Twitter, users went crazy.
Of course, people's imaginations went wild, and the jokes started to come in.
It wasn't long 'til people discovered who this lady was, either. Apparently, her name is Roni Rose and she is, you guessed it, an Instagram model.
Rose seemingly caught word of how her look was going viral on Twitter and addressed it in this Instagram post.
The caption read,
Sooo I was just drinking my drink and this happened. I'm just giving the boys a little motivations I guess. Go warriors lol #goldenstatewarriors #ronirose #oakland #bringonthehaters #gottalovecali #wewon #blueandyellow.
Motivation, huh? We're sure some of the other, single players would like some of that. But with Ayesha Curry at every Warriors game, Steph will likely pass.