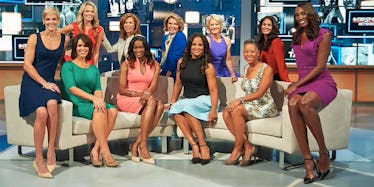 Some People Think Women Shouldn't Be Sports Reporters, And That's Stupid
Twitter/CBS
The list is substantial.
In July, Carli Lloyd scored a magnificent hat-trick to lead the US to a World Cup title, for which her and her teammates were celebrated during a ticker-tape parade in New York.
Not much later, Serena Williams took Wimbledon to win the third of four trophies she needs to complete a calendar year Grand Slam.
Ten days afterward, Becky Hammon coached the San Antonio Spurs to the Las Vegas Summer League title and this past weekend, a pair of female trailblazers made their debut in the NFL.
Jen Welter. Sarah Thomas. History. #KCvsAZ pic.twitter.com/iMvIxAax6X — NFL (@NFL) August 16, 2015
By far, the majority of truly inspiring and notable moments in sports during the summer of 2015 have belonged to women, so many that you'd need the help of a comprehensive list to remember them all.
For most progressive-thinking sports fans who are attentive to the fact that women can often get the short end of the stick in sports, these moments were something to celebrate.
But for those who celebrated such triumphs during this — the summer of female athletes — it'd be irresponsible to pay no attention to events that should be noted for the opposite reason.
Here is where the focus changes from females in sports to females in sports media. The latter group has had its say in the summer party of progression, too.
During the whole of the Women's World Cup in Vancouver, Fox Sports parachuted in a majority female cast of analysts and presenters who pulled off the once seemingly impossible task of making the network appear competent in covering the sport.
I know they just did a good job with the Women's World Cup, but it's still hard getting used to Fox doing not-terrible soccer coverage. — Sean D. (@WonkoSD) July 8, 2015
But that accomplishment stands on the opposite end of the spectrum to the testimonies that were revealed by Sports Illustrated sports media critic Richard Deitsch.
Women still have a long way to go when it comes to getting a fair chance at performing as well as their male counterparts in the world of sports media.
That is, at the very least, a conclusion that is hard to avoid after reading the various stories a number of established female professionals told Deitsch for his Monday column.
The continued sexual harassment of women in the sports media. The Monday @SInow media column: http://t.co/fWlPUYpO0t — Richard Deitsch (@richarddeitsch) August 17, 2015
That column comes after a week during a which a much less notable occurrence was brought to attention by Newsday's Kimberly Martin, who was called out for seemingly being a woman who job it was to cover the Geno Smith debacle at Jets training camp.
I guess I should go back to the kitchen where me and all the other womenfolk belong, huh? #clown pic.twitter.com/zS3YQQuGnd — Kimberley A. Martin (@KMart_LI) August 12, 2015
That tweet didn't become a big deal, but it's worth noting in this particular conversation, if not for anything else than for the fact that we've heard these types of comments before — that women shouldn't be able to cover men's sports.
That is a dumb assertion.
Nearly every single male reporter who covers sports has never played at the professional level, and many of them would look like fish out of water at the gym, yet they're still allowed to do their jobs without anyone accusing them of being inherently unqualified to do so.
We instead consider their opinions because their careers are dedicated to getting information about a certain subject and sharing that with the world.
The ability to study something and come to an astute understanding of it, needless to say, is not exclusive to any one gender.
But the assertion that women shouldn't be in roles in sports media that allow them to voice their opinions, or do anything besides be eye candy, is insulting once you consider the idea that they can very easily face a number of potentially devastating hurdles that men just don't have to face.
A woman can have her job undermined when, for instance, an athlete spreads a false rumor in the locker room that he slept with her.
One anonymous female reporter told Deitsch,
There was no paper trail, just my word against his, and since I was fighting an unknown enemy, I couldn't even defend myself.
Or, she can have her objective of fostering a professional relationship with an executive comprised because said executive insists on making inappropriate advances.
Another anonymous female reporter told Deitsch,
We were supposed to meet up for a drink during a big work event, but he kept changing the subject away from work to my personal life and whether or not I was dating anyone. When he put his hand on my back, that was my cue to leave. I stopped trying to communicate with him, which was a professional disadvantage since he was most likely helping my competitors.
As also noted in Deitsch's column, she can even be rattled before going on air if a player skates by her and says something along the lines of,
Nice lip gloss, it'll look good on my c--- tonight.
You wouldn't be surprised if any of this ever happened to a "she" you might know, especially when she going public requires remaining anonymous.
As another source told Dietsch,
You block everything out or else you become a 'whistle blower' and no one wants to have you around.
All of this, apparently, is still the undeniable reality for some professional women in sports media, no matter how many feats female athletes have achieved this summer.