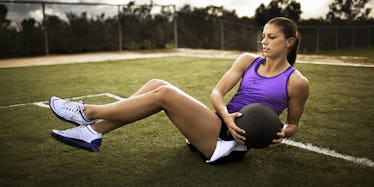 Strong, Not Just Skinny: Being An Athlete Taught Me What's Important
Alex Morgan Soccer
Like many kids, I grew up playing sports.
Starting when I was almost 5 up until my senior year of high school, I was always on some type of sports team, and some of my greatest moments came from that time period.
Sports are more than a fun way to make sure you're in shape; they teach you a lot about life along the way.
Growing up, I had body issues, but sports always showed me that instead of being ashamed, I should embrace the fact that my body had muscles; I should be proud of myself.
Too often, female athletes are put into a mold since, sometimes, they don't fit the picture-perfect image of how a woman "should look."
During high school and middle school, I can honestly say being involved with sports saved me. They showed me it was okay not to look like everyone else, and that I was capable of overcoming both physical and mental challenges.
Even today, going to the gym and running gives me that same sense of release that being on my old high school team did.
Being physically active causes women to realize that — especially in today's society -- it's much more important to be healthy than to have the perfect body.
Having female athletes as role models and participating in sports can do a lot of good for our generation's women. Compared to when our parents were growing up, the athletic opportunities for females have more than doubled.
To me, that's one of the greatest statistics I could ever hope to see for women.
Being involved in athletics kept me physically in shape, gave me confidence and taught me some of life's biggest lessons for young women today. Now, I present two huge lessons every female athlete has learned from being active:
The beauty of being both physically and mentally strong
Part of being an athlete is dedicating precious time to working out. You work year round to make sure when your season comes, you're in top shape.
However, it's not only about being physically strong; athletes also have to remain mentally strong.
Sports molded not only my body, but also my mind. The workouts kept my body in shape and helped me to gain muscle, while the team mentality and competition gave me the confidence to have mental strength, as well.
It was always instilled in me that being both physically and mentally strong will get me further in life than any boyfriend could.
Sometimes, we get wrapped up in the small things and forget how strong we really are. Being involved in athletics is a reminder that people are usually a lot stronger than they think.
In a world that is constantly pushing women to look a certain way or judging by appearance, female athletes are given the keys to stand up to the stereotypes and change societal views for the better.
The importance of healthy living
Being involved with sports obviously keeps you in shape physically; it also shows you the importance of creating a healthy lifestyle. Coaches encourage you to eat healthy, and make sure you get enough sleep to perform at your best.
Being healthy or being an athlete is about much more than just hitting the gym. You are taught how to properly eat and the importance of taking care of your body.
With everyone obsessing over diet trends, growing up with sports shows you it's always more important to fuel your body properly than shed an extra pound or two.
Having girls involved in athletics is vital for our generation. It personally molded me into someone who has pride, and can teach a lot of young women the importance of being strong, not just skinny.