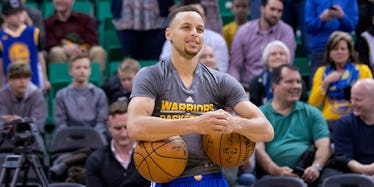 How Stephen Curry Turned A Pregame Routine Into A Must-See Event
Russ Isabella-USA TODAY Sports
Steph Curry's pre-game warmup has become a thing of legend. Fans show up to the arena 90 minutes early to watch Curry play a game with himself.
This isn't the standard pre-game warm up we're all used to. Players catching ball after ball, body in the exact same position, shoulders square, arms and legs perfectly aligned as they repeat the same shot over and over again.
No, Steph's approach is far from orthodox. He rarely ever lines up and takes a "normal" jump shot. Instead, he's usually in motion, arms and legs flailing, while shooting from odd angles.
Some might ask why he would approach shooting this way. The answer? He's imitating the fast-paced, frenetic shooting you'd see in a game.
Rarely is a defender going to give you a clean look. Rarely do you get to set you feet perfectly, or square your shoulders. More often than not you're fighting for position, attempting to slip away from a defender who's shadowing your every step, especially when you're Steph curry.
His warm up lasts about 20 minutes, and starts with him dribbling two basketballs at once, behind his back, between his legs, almost as if he's dancing.
He does this for about three minutes before moving to doing what can only be described as a one-step lefty hook from 5 feet from the basket, a finisher we've seen him implement time and time again.
He then transitions to a sharp, athletic jab step to his left while floating a lefty, one hand shot toward the bucket.
Next, he moves to the right side of the court, lofting off-balance, one-footed jumpers.
He will mix in some "standard" set shots but will do so while on the move. You get the idea; Curry never stops moving, ever.
He has a relaxed look to his body when the ball isn't in his hands. He has the same look when he catches the ball: the living embodiment of chill. Then his body tightens and in a flash he throws up a shot. If you were to blink, you'd miss it.
It's the 10-minute mark of the video that fans line up early for. Curry walks back roughly 45 feet from the basket, standing just inside the blue and yellow paint circling center court. Fans hold their breath with every shot he throws up, letting out oohs and ahs when a shots go in, many of which do.
Some people might look at a performance like this as a trick shot sideshow, but those people would be wrong. Steph's not warming up like this to draw fans; he's doing it to push boundaries, his own and the game's.
With every game he plays, he's changing the way we look at basketball. He's hitting shots from further away from the basket with better accuracy then we've ever seen.
He truly is the Babe Ruth of basketball, a statement I can't take credit for, but one I think is incredibly accurate.
Babe Ruth came about in the Dead Ball Era and livened up the bats to a level fans had never seen before. His propensity to hit home runs was otherworldly. Sure, home runs existed long before Ruth, but he turned them from fluky happenstance to a skilled art form.
Ray Allen hit a then NBA record 269 three-pointers in the 2005-06, a number that broke Dennis Scott's 10-year-old record of 267 three pointers made.-Curry currently has 392 three's made, nearly a hundred more then he had last season and he still has one game left to play.
Three-pointers once looked at as fluky as well, a specialist shot that wasn't nearly as important as getting the ball into a big guy in the paint for an easy two and a chance at a three-point play if he's fouled.
Curry, who doesn't nearly have the size to play below the basket or above the rim took the game forward. Turning the three-point shot from a low percentage gamble to a smarter, steadier way to play the game. He's the king of pace and space.
All of this stems back to the way he practices.
Curry is able to get open for three like no one else because he doesn't have to be open. In fact, I'd venture a guess that at least half of his threes are contested with a hand in his face. He's utterly unfazed, however, because he's practiced shooting from an uncomfortable position a million times.
We'll never look at the three-point shot the same way again.
And those kids who don't grow to be 6 foot (myself included) now have a hope to play at a highest level, all because an undersized, unnoticed, kid from North Carolina decided to approach the game in a vastly different way.
And thank god he did.
If you'd like to see the way Steph prepares himself to change the game on a nightly basis you can find the link here.
Belive me, it's worth the watch.