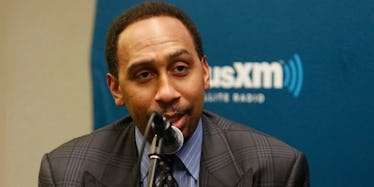 An ESPN Reporter Just Threatened Kevin Durant For Calling Him A Liar (Video)
Last Tuesday, ESPN's Stephen A. Smith made the assertion NBA superstar Kevin Durant could end up in Los Angeles should he fail to sign a new contract with his current team, the Oklahoma City Thunder.
On Friday, Durant acknowledged Smith's comments, calling him a liar and saying he "[makes] up stories."
Durant said,
I don't talk to Stephen A. Smith at all. Nobody in my family, friends, they don't talk to Stephen A. Smith. So he's lying... I have people who I talk to about everything and I know for a fact they didn't talk to him, so he's making up stories.
This morning on ESPN's "First Take," Smith responded to Durant's comments.
Smith said,
Kevin Durant is the one that's lying. I have interviewed Kevin Durant... That statement that he came out with, that was a surprise to me because I had no idea that he had any kind of problem with me, whatsoever.
Seems like a pretty appropriate response at first, but Stephen A. Smith then went on a nearly 20-minute rant of epic proportions.
The reporter claimed Durant had no right whatsoever to question his or any other member of the media's credibility. He called Durant's words a "personal attack" on him and encouraged anyone to challenge his record when it comes to breaking stories.
Smith also asked, indirectly, if Durant wants to see him leave the desk and go back to reporting in NBA arenas.
He said,
I can assure you, I find out more in 10 minutes than I can get from 50 phone calls. I have proven it... We really want to go here? We really want to start something with me? You sure about that?
Smith did mention several times Durant is an unbelievable talent, one of the top two players in the league and a good dude, but he also ended with a pretty stern warning for KD and others.
The longtime reporter cautioned,
You don't want to make an enemy out of me... You do not want to make an enemy out of me. I'm not having it. I've done nothing wrong, and I'm not going to tolerate it.
You can check out this morning's segment in its entirety in the clip above.
Citations: Stephen A. Smith Responds to Kevin Durant, Says Thunder Superstar Is 'Lying' (Bleacher Report)