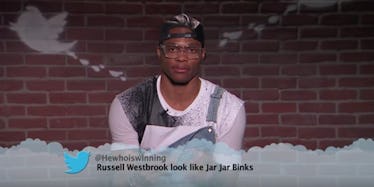 Steph Curry And Russell Westbrook Have The Best Reactions To 'Mean Tweets'
ABC
The NBA Finals returned on Thursday night, which meant it was time for yet another basketball tradition to follow: Jimmy Kimmel inviting the league's most well-known faces on his show to read mean tweets, and no one was spared.
Steph Curry and Klay Thompson may be the stars of the record-breaking Golden State Warriors team, but they got ripped.
Doc Rivers may be a coach and not even a player, but he got ripped, too.
And the old heads? Yeah, they weren't exempt from this treatment, either. Reggie Miller, Magic Johnson, Jalen Rose and Shaq -- who's practically a veteran of funny videos at this point -- were all in for the bashing.
But nothing tops what came Dikembe Mutombo's way. He read the following tweet:
I just had a fart that sounded exactly like Dikembe Mutumbo speaking in his native tongue.
I'd imagine hiding the identity of the user behind this tweet was of paramount importance, since Mutombo is the type to run up on people in the street.
Yeah, no one wants that. But everyone loves "Mean Tweets." Check 'em out in the video above.