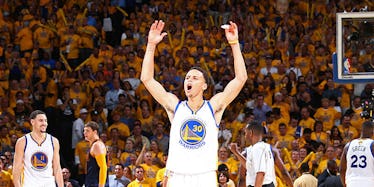 The Steph Curry Effect: What Makes Him The NBA's Most Likable Star
Facebook
Before turning it on in the fourth quarter of Tuesday night's Game 3 of the 2015 NBA Finals, Steph Curry had been relatively quiet in his first NBA Finals.
Many writers and analysts have been quick to throw haymakers at LeBron James for not "showing up" in big games, but the criticism of Curry has been relatively mild.
What is it about Curry that makes the general public so sympathetic toward him?
Though his father played in the NBA, Steph Curry's rise to superstardom is a true underdog story.
Lightly recruited out of high school, he signed with academically rigorous Davidson College. He gained national attention for his Wildcats heroics in the 2008 NCAA Tournament.
After the Cinderella story came to an end in the Elite Eight, Curry became the first player since 1994 to not make the Final Four and still be named the Most Outstanding Player of the Midwest Region.
It seems as though Steph Curry has never lost sight of the his humble basketball beginnings.
The 27-year-old got married and had his first child at a relatively young age. He met his wife, Ayesha Curry, through the youth group of the church they both attended. The couple are expecting their second child this summer.
With all the rumors and stories that swirl around about NBA players and their exploratory personal lives, Curry appears to be the exception rather than the norm.
He utilizes social media to showcase time spent with his wife and family, and his daughter's emergence as an interview star this postseason has caught the eye of the adoring public.
Though his off-court lifestyle appears to be relatively quiet, he still makes himself accessible through his social media platforms. He makes it clear where his priorities lie.
Though I am not about to challenge him to a foot race, Curry is not an unbelievable athlete by NBA standards.
He does not possess Derrick Rose's leaping abilities or John Wall's end-to-end speed. At 6"2", he is on the small side for a point guard.
If you ran into him on the street and had never watched a basketball game in your life, you would think he was a salesman or, perhaps, a gym teacher, not the most lethal scorer on the planet.
His unbelievable ball control and ultra quick, self-taught shot release is what has gotten him to this point. Being 6'2" is certainly nothing to complain about, but as the NBA's players continue to get bigger and bigger, he is as close to an accurate representative of the everyman as we are going to get.
All of these elements add up to Curry's good-guy image. He has not upset an entire city by publicly announcing his departure for another team. He is not viewed as the Chosen One or a king, but rather, as a "baby-faced assassin."
Combine this positive perception with a skill-set unlike any we have ever seen, and you have a media darling.
Curry also has an amazing group of players around him. Oftentimes, a lackluster performance by one Warrior will be covered up by an amazing night from a teammate.
On January 23, 2015, Golden State beat the Sacramento Kings by 25 points. Curry shot 3 for 11 from the field and had just 10 total points, but no one was even talking about his performance.
Why is that? Well, his backcourt mate, Klay Thompson, went off for 52 points, including an NBA record 37 in the third quarter.
Though LeBron James had Kyrie Irving and Kevin Love to lean on during the regular season, he is shouldering the whole load now. At this point, having an off-night is not an option for The King.
There appears to be a different threshold for criticism for the league's two best players, but should there be?