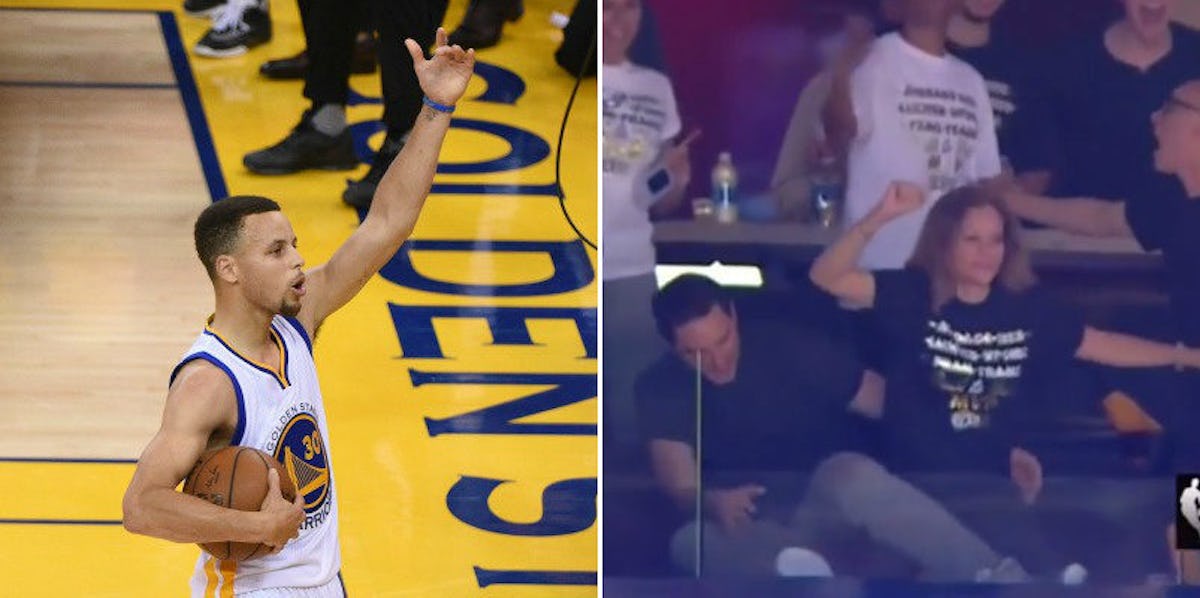 Steph Curry's Mom Got Touchy With Some Dude And Twitter Went Wild
USA TODAY Sports/Vine
Wednesday night, NBA MVP Steph Curry and the Golden State Warriors defeated the Portland Trail Blazers 125-101 to book a spot in the Western Conference Finals.
Curry, in his second game back from a 15-day layoff because of injury, dropped 29 points on the Trail Blazers and dished out 11 assists. Oakland's Oracle Arena was rocking, but no one in the building was more excited than Curry's mom, Sonya.
At one point, with the game late in the fourth quarter, Sonya celebrated a huge three-point shot from Steph by getting real touchy with this dude in her suite.
Woooo! As you can see in the above clip, though, the guy Sonya got real close with isn't Steph's dad, Dell Curry. You can also see her husband, Dell, wasn't thrilled about how his wife celebrated their son's shot.
According to reports, the dude celebrating with Sonya is Jason Richardson, Steph Curry's old teammate from college, so this is probably harmless. However, that didn't stop Twitter from running wild with speculation.
During Game 5 between the Warriors and Trail Blazers, Steph Curry's mom got close with a dude who isn't Steph's dad.
Immediately, the Internet took notice and started clowning on Steph's dad, Dell.
Of course, it's not an official roast until someone breaks out the "Crying Jordan" meme.
I think we know who Lemonade was really about.
Did Sonya Curry just drop the mic on her marriage with Dell?
Something tells me Jason Richardson isn't getting an invite to the Curry suite for the next round of the postseason.
Citations: Steph Curry's Mom Celebrates Son's 3 with Random Guy in Suite: Internet Reacts (Video) (Total Pro Sports)