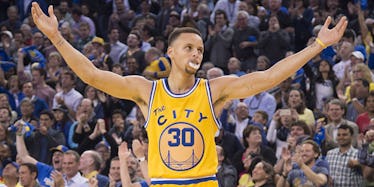 Steph Curry Has An Emoji Keyboard Now And It Has A Dancing Riley Curry
Kyle Terada/USA TODAY Sports
Steph Curry isn't just killing it on the court these days; he's also crushing it in the mobile app world. Wednesday marked the launch of StephMoji, a Steph Curry themed keyboard, and within just 24 hours, the $1.99 app was already listed as Apple Inc.'s best-selling paid app.
That's right. He beat out Kim Kardashian's emoji app and a mobile version of Minecraft -- impressive stuff.
Download StephMoji for yourself and you'll find many cartoonish versions of the 28-year-old including shooting from the moon, holding his two MVP trophies and gnawing on his mouth guard in classic Curry fashion. Along with the many faces of Steph Curry, you can send adorable emojis of his daughter Riley to your friends along with a few of his baby mama Ayesha Curry.
The new keyboard came just in time as the Golden State Warriors are all set to face off with the Cleveland Cavaliers in tonight's rematch of last year's NBA championship. To prepare, you can download StephMoji from the Apple App store. The rest (as in which emoji you'll use to taunt your pro-Cavaliers friends) is up to you.
Citations: Steph Curry's New Emoji App Is Making Bank (Bloomberg)