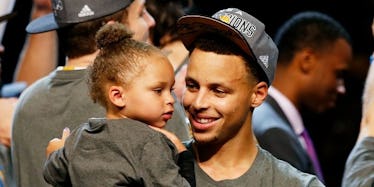 Steph Curry Looks Just Like Riley In This Throwback Burger King Ad (Video)
Getty Images
If you had any doubt Steph Curry was as adorable, and marketable, as his daughter, Riley, you need look no further than this throwback Burger King commercial for the confirmation.
YOOOOOO this Steph Curry/Dell Curry Burger King commercial they just found on the Warriors broadcast is EVERYTHING pic.twitter.com/B9P9nFulLt — Rob Perez (@World_Wide_Wob) January 5, 2016
During last night's Warriors-Hornets game, Comcast SportsNet aired several old-school BK commercials, in which a young Steph Curry is featured side by side with his dad, Dell, learning the keys to basketball success.
In case you were wondering, Steph and the Warriors won last night's game, improving to a ridiculous 32-2 on the season.
Fun fact: It appears advertising was a lot more subtle a few decades back. Maybe we should try that route again.
Citations: Check out Dell, Stephen Curry's Burger King ads from back in day (NBC Sports)