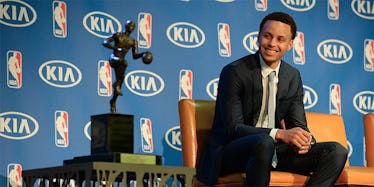 11 Ways Steph Curry Proves Good Guys Exist In Sports
Golden State Warriors
This past weekend, we saw a great deal of negativity accumulate in the sports world due to a certain someone named Floyd 'Money' Mayweather.
Social media exploded with critics blasting his history of domestic violence, his cocky attitude, oh, and the fact that he made more money in 40 minutes than I will ever make in 40 years.
As a sports fan, I was personally disgusted by what so many people paid $99 to watch, and who half of sports fans and gamblers rooted for.
But, that all changed when I woke up this Monday morning to find a positive sports story within the industry. It was about someone who shows the true meaning behind competition, athleticism and an actually exciting event.
He is someone we all can relate to and someone we actually can root for.
I am referring to the one and only Wardell Stephen "Steph" Curry II, who was named NBA's Most Valuable Player after beating out James Harden, LeBron James and Russell Westbrook, just to name a few.
I could tell you that in his five years of professional play with the Golden State Warriors, the point guard averaged 20.9 points per game, and that he's the first Warrior to win the award since Wilt Chamberlain in 1959-60, when the franchise was in Philadelphia.
I could tell you that he received more 2015 All-Star votes than any player or that he beat his own personal record this year for most three-pointers made in a season.
But, this individual goes beyond statistics and records.
Here are just some of the reasons the NBA got it right with Steph Curry, a man beloved by many, favored by most and respected by all:
He has some serious athletic (and good looking) genes.
If you're a sports fan, particularly of basketball, you probably have heard of another member of the Curry family. Steph's father is Dell Curry, who played in the NBA from 1986-2002, and was recently a TV analyst for the Bobcats.
Dell married Sonya who was a star volleyball player at Virginia Tech. Together, Dell and Sonya had three children: Stephen, Seth and Sydel. Seth, who's been in and out of the league recently, was a standout at Duke University and their sister, Sydel is a star volleyball player at Elon University, another North Carolina school.
If that's not enough, they are all pretty damn good looking, and fans around the world love to comment specifically on Mama Curry's good looks.
I bet Steph is not too happy about that one…
He wasn't always this good.
As a sophomore in high school, Steph Curry was 5'6" tall and weighed 125 pounds. In fact, because of this lack of strength, he was forced to shoot the ball from his waist.
During his junior year, Virginia Tech, his father's alma mater, recruited him, but told him he would have to be a walk-on player. He referred to these years as the most unconfident time in his life, but he used it for motivation to work harder before his senior year.
Eventually, Davidson College, a small school just 20 miles north of where he grew up in Charlotte, gave Curry a shot. At the time, Davidson wasn't exactly a school known for basketball, as the last-time the school won a tournament game back then was in 1969.
But, that all changed when Curry entered the campus, brought his school to an Elite 8 in 2008 and set an all-time scoring record for both Davidson and the Southern Conference.
Although he was drafted seventh overall in the 2009 NBA Draft, a lot of critics had their doubts on his athleticism, size and strength. Suffice to say, he's proved a lot of people wrong.
His wife is equally as cool as he is.
Ayesha and Steph met at a church youth group while they were teenagers in North Carolina. Although they had friends in common, they both went to different high schools and didn't know each other too well.
After a few years, while Steph was at Davidson, the two reconnected through Facebook messaging and the rest is history. In July 2011, Steph and Ayesha married and she has supported his career ever since.
She has found her own form of entertainment by starting a YouTube channel called "Little Lights of Mine" with tips on cooking, fitness and parenting.
He's a family man…much like his father.
Steph and Ayesha had their first child named Riley in 2012, and they are expecting their second child this summer.
He recently told USA Today,
"I know the blessing of having a dad who played 16 years in the league. That experience, and seeing him as an example, let me know that it's possible. It's not easy, but it's possible."
Steph Curry refers to his father as his favorite athlete growing up, and recalls times when they played one-on-one against each other.
Dell accepted an offer to be the Charlotte Bobcats assistant coach, but changed his mind three months later to dedicate time to his family, which seems to be where Steph gets his strong parenting inspiration.
Finally, Steph still stays extremely close with his siblings. And for all my fellow female fans out there, Steph Curry's sister told ESPN that he loves quoting "A Walk to Remember" and the "Princess Diaries" with her.
Need I say more?
He is extremely loyal.
Curry has a tattoo on the underside of his left wrist that displays TCC above the number 30, standing for "trust, commitment and care."
This was the motto of Davidson basketball coach Bob McKillop, and Curry's ink matches that of four college teammates.
According to Sports on Earth:
"He still feels a responsibility to Davidson, because his early departure for the NBA brought down the basketball team's graduation rate."
During the lockout in the fall of 2011, Curry went back to the North Carolina school and took three classes. He completed two of them before the season started up, and now the school is trying to help him finish the degree within the limitations of an NBA lifestyle.
He's charitable.
Last summer, Stephen Curry teamed up with Under Armour to host "Stephen Curry Select Camp," where the top 20 guards in the world are invited for a private four-day workout with Curry.
In addition, Curry supports Nothing But Nets, a foundation, which helps fight malaria and he even traveled to Tanzania to raise awareness for the deadly disease.
If that's not enough, Curry hosts annual golf tournaments, which raise scholarships for military personnel and families. As a result, he was the 2013-2014 recipient of the NBA Community Assist Award, and we can certainly see why.
He has sweet moves.
Whether he's on the court:
In the kitchen:
In the air:
In practice:
Or whatever you call this:
But lost to Jimmy Kimmel on a tricycle…
Kimmel, the same guy who was Manny Pacquiao's sidekick this past weekend, challenged Curry to a one-on-one game last year.
The catch? Stephen had to play on a tricycle. Curry made a three-pointer on a tricycle, but lost to Kimmel in the end, which was all commentated on by Marv Albert. Sounds ridiculous? It is.
He has a great sense of humor...
And will forever be young at heart.
Although he is 27 years old, Steph Curry is often made fun of for looking like a teenager. Recently, he was carded for trying to get into an R-rated movie and was denied a beer at a California Pizza Kitchen.
He once tried growing out a goatee, which backfired on him, as many made fun of him. This includes sportscaster Dan Patrick, who said, "You still look 18, you don't fool anyone."
And last but not least...he can overcome obstacles.
After a right ankle injury, Curry missed the last 28 games of the 2011-12 season. There was an element of the unknown among his family and friends due to the severity of the injury.
Despite doubts, the surgery to repair his torn ligaments was a success and the next season, he averaged 22.9 points, 6.9 assists and four rebounds per game, and broke Ray Allen's record for most three-pointers in a single season (Curry had 272).
Now, he is the NBA's Most Valuable Player.
Congrats to Stephen Curry!