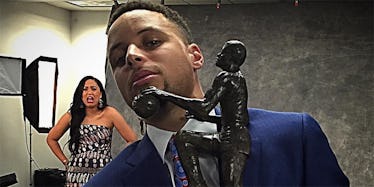 Steph Curry Joked About How He'll Try To Get Wife Ayesha To Stop Tweeting
Instagram/Ayesha Curry
Sunday night is major, for both Steph Curry and Ayesha Curry.
Everyone will be watching to see whether Steph will step up to the task of winning in the most high-pressure situation of his career, Game 7 of the NBA Finals against LeBron James and the Cleveland Cavaliers.
Everyone will also be watching to see how Ayesha reacts, in a win or defeat, especially after she set Twitter on fire after Thursday night's memorable game.
When she accused the NBA of rigging games, the jokes came out en masse.
And Steph had one more joke to add to the bunch.
During a press conference, Steph made it clear the important thing is he plays up to his potential, of course. But, he also couldn't help but joke about what he might have to do to get Ayesha to stop tweeting.
Here's what he said:
"I might have to cut the WiFi off at my house," - Steph Curry on wife Ayesha's tweet post Game 6 #NBAFinals pic.twitter.com/N4aGMVIiQp — Courtney Cronin (@CourtneyRCronin) June 18, 2016
It's only natural that Steph throw a little bit of shade at his wife. After all, everyone knows a relationship with a person you can't make fun of is not a relationship worth being in.
One thing's for sure, though. There's not going to be much fun in the Curry household if the Golden State Warriors lose the championship.