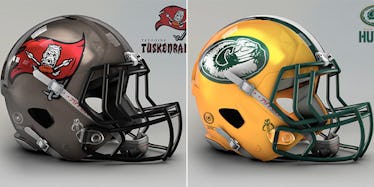 These 'Star Wars' Helmets Ensure The Force Is With You On The Field (Photos)
No spoilers, I promise, but this is one thing about "Star Wars" you have to see.
With "Star Wars: The Force Awakens" hitting theaters today, there's no time like the present to share this awesome series John Raya illustrated.
Raya took 16 NFL teams and applied "Star Wars" concepts to their logos to make a themed line of helmets. The final product, needless to say, is amazing.
Here are some of the best helmets.
Dallas Cowboys
New York Giants
Philadelphia Eagles
Washington Redskins
St. Louis Rams
Arizona Cardinals
San Francisco 49ers
Seattle Seahawks
For the full gallery of "Star Wars"-themed helmets, click here.
Citations: STAR WARS. National Football League. (Behance.net)