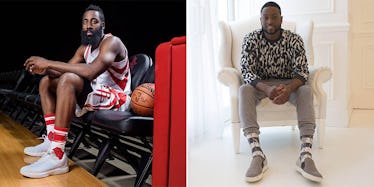 The NBA's Favorite Sock Brand Has Men Everywhere Paying Attention To Detail
Instagram/Stance Socks
Men's ankles are getting some much-needed attention.
A slimmer fit for men is in high demand, now that ill-fitting denim and throwback jerseys have long since been deemed unimpressive.
Biggie and his '90s hip-hop cohorts once gave men permission to flourish in baggy denim and 2XL tees. But, in 2016, guys are wearing Nike Tech joggers and Jordans on first dates. Similarly, pro athletes are now decked out in GQ-worthy tailored suits before warm-ups.
Men are spending more time dressing to size and paying attention to fashionable details of their ensembles. With that, basic white tube socks have taken a backseat.
"Men started showing their ankles and their calves," Tzvi Twersky, basketball category director for the lifestyle sock brand Stance, says. "If your sneaker owns your foot, what owns your calf? The space between your foot and your pants, what are you going to put there?"
Twersky says socks gained popularity after men's fashion took on a more tailored fit. In late 2010, Stance made the easy lay-up and launched its first line of lifestyle footwear.
In the first five years, founders Ryan Kingman, Jeff Kearl, Aaron Hennings, John Wilson and Taylor Shupe focused on design and creating artful concepts. Stance speaks to individual expression and creativity, offering everything from eclectic floral prints to striped styles and capsule collections, like the assortment of NBA Legends socks.
Now, Stance has ventured into the performance sock market, making its footwear a synthesis of design and technology.
"Every company has points of excellence and ours is really targeted cushioning, no extra weight. You can wear a sock for hours and your foot's not sopping wet," says Twersky.
Stance's athletic socks are supposed to maximize your efforts, similar to Nike's Elite socks. However, Stance hangs its hat on bridging art and science.
"We have a technically superior sock, but we haven't given up on making it the best-looking sock, too," Twersky says.
The NBA flirted with Stance's approach to athletic footwear for months without sealing the deal. Clarke Miyasaki, EVP of business development, was the person who made the winning business shot for Stance during the 2014 NBA All-Star Weekend. Legend has it, Miyasaki presented Lisa Piken Koper, the NBA's vice president of licensing, with a million dollar check to persuade the league to make a deal with the sock brand.
That opportunity wouldn't come until after Stance's last chance to prove itself at the 2015 NBA All-Star Game in New York City. When the 2015-2016 NBA season tipped off, Stance became the league's official on-court sock. A pretty triumphant feat for a young company.
Now, Stance has quite a healthy relationship with the league and all eyes are on what guys have tucked into their Nike LeBron sneakers.
Key ballers like Dwyane Wade, Chandler Parsons, Andre Drummond and Klay Thompson have already cosigned the brand. That's in addition to the celebrities who've collaborated with or shouted out the brand, such as Jay Z, Rihanna, Willow Smith and Christopher Walken.
Stance isn't only pandering to star players and A-list courtside ticket holders, however. They're also appealing to fans by creating special designs for NBA's major service days. In observance of Martin Luther King, Jr. Day and Black History Month, Stance has created a limited edition black and white MLK Day sock sporting "1929," the year activist MLK was born.
"MLK Day and Black History Month are important to the players, the owners and the league itself," says Twersky.
This type of special footwear with a message worn by their favorite ballers helps consumers connect to the brand, proving once again that Stance understands both its VIP and everyday consumers. With the growing popularity of specialty socks, men understand that it plays a significant role in any outfit, whether its casual, athletic or professional.
The 2016 NBA All-Star Weekend marked the one-year anniversary since Stance made a strategic play for a seat at the NBA table. Though Stance has a bunch of other collections and collaborations driving the lane, will they ever let up?
"The space is so young," he says. "There might be hiccups or months when things slow down or styles flop that used to be fire, but everything we're coming up [with] is fresh."