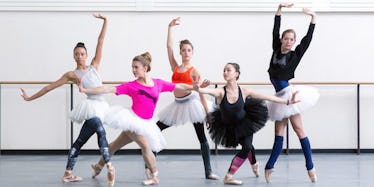 This Major Sports Brand Wants To Show You How Badass Ballerinas Really Are
PUMA
Ballet isn't just about tutus and Natalie Portman's mental breakdowns. It's hours of sweat, broken toes and meticulous practice. Call it the Misty Copeland effect, but ballerinas are finally getting their time to shine as extraordinary, skilled athletes.
The American Ballet Theatre's principal dancer has made her mark on the industry, going public with her struggles as a muscular dancer in the midst of an industry traditionally dominated by waif-like body types. In 2014, Copeland signed a historic contract to represent Under Armour in her "I Will What I Want" campaign.
Copeland preaches the virtue of power and intensity, even in the midst of fanciful "Swan Lake."
Now, the New York City Ballet is getting its own athletic come-up. Women's Wear Daily reports fitness brand Puma has signed on to become the company's official partner, providing everything from new sports bras to financial backing, although the label hasn't disclosed exact figures.
Adam Petrick, Puma's director of brand and marketing, called the NYC Ballet "truly top athletes as well as top creative minds. You have got world-class performers who use their bodies more extensively and effectively than anyone in the world, their training regime is ridiculous."
One thing's for certain: You don't get a ballerina body just by putting in a lazy 30 minutes on the elliptical every day. No, there's intensity behind every ripped muscle and pointe stance. That's exactly the ethos Puma aims to display, featuring the company's up-and-coming dancers in its ad campaigns.
Puma, which has undergone something of a sexy rebirth since catching the eye of stars like Rihanna, is in the market for what's new and trendy. And what's better than a tough-as-nails female athlete?
Petrick added,
The way that they work their bodies and exercise control, and respect their bodies as their instrument — that's a very worthy and noble pursuit ... Those are the dominant ideas of our time — a dancer exemplifies both of those thing.
While you won't see any Rihanna-branded pointe shoes come out of the collaboration, keep an eye on this relationship. Wannabe ballerinas might want to stock up on ballet-themed activewear.
Citations: Puma Named Official Activewear Partner of New York City Ballet (WWD)