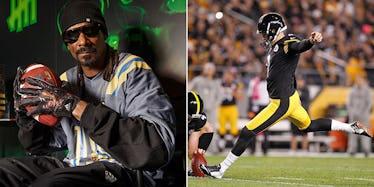 Snoop Dogg Completely Destroys Steelers Kicker In An Epic Rant (Video)
It just wasn't meant to be last night for Pittsburgh Steelers kicker Josh Scobee.
The 33-year-old had two glorious chances to secure a crucial division win against the Baltimore Ravens, but came up short on both field goal attempts.
Scobee had an opportunity to extend the team's three-point lead with two and a half minutes left in the fourth quarter, but he fell short.
He had another chance to redeem himself with Pittsburgh still up by three with just over a minute left in the game, but once again, he couldn't seal the deal.
That left the door open for the Ravens to kick a field goal and send the game to overtime, where the team won with yet another field goal.
The sports world was pretty harsh in its critique of Scobee, but no one was more merciless than Snoop Dogg.
The Steelers diehard laced into Scobee with a very NSFW Instagram video.
And to show you just how quickly Snoop can turn from fan to foe, check out the video he posted just minutes before.
Do you agree with Snoop's take, Steelers nation?
Citations: Snoop Dogg's Rant About Steelers Kicker Josh Scobee Is Both Beautiful And NSFW (UPROXX)