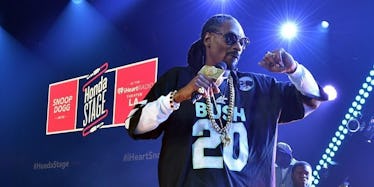 Snoop Dogg Tells Chip Kelly To Kill Himself In Rant About The Eagles (Video)
Getty Images
Many Philadelphia Eagles fans were crushed by their team's 40-17 defeat at the hands of the Arizona Cardinals Sunday night, but none took the loss harder than Snoop Dogg.
See, Snoop isn't an Eagles fan, but he apparently was counting on the Eagles to come up with a few fantasy points so he could make the championship of his fantasy football league.
In a series of Instagram videos, Snoop verbally slammed the "sorry-ass" Eagles and even went so far as to say Philadelphia's head coach, Chip Kelly, should kill himself.
While wearing what appears to be a shower cap, Snoop shared his condolences for Eagles fans and ripped the team's inability to get him "one or two" fantasy points.
Whether it's the NFL or fantasy football, for some fans, it's clearly more than just a game.
Citations: Snoop Dogg in a Bonnet on IG Tells Chip Kelly to Kill Himself (Videos) (BSO)