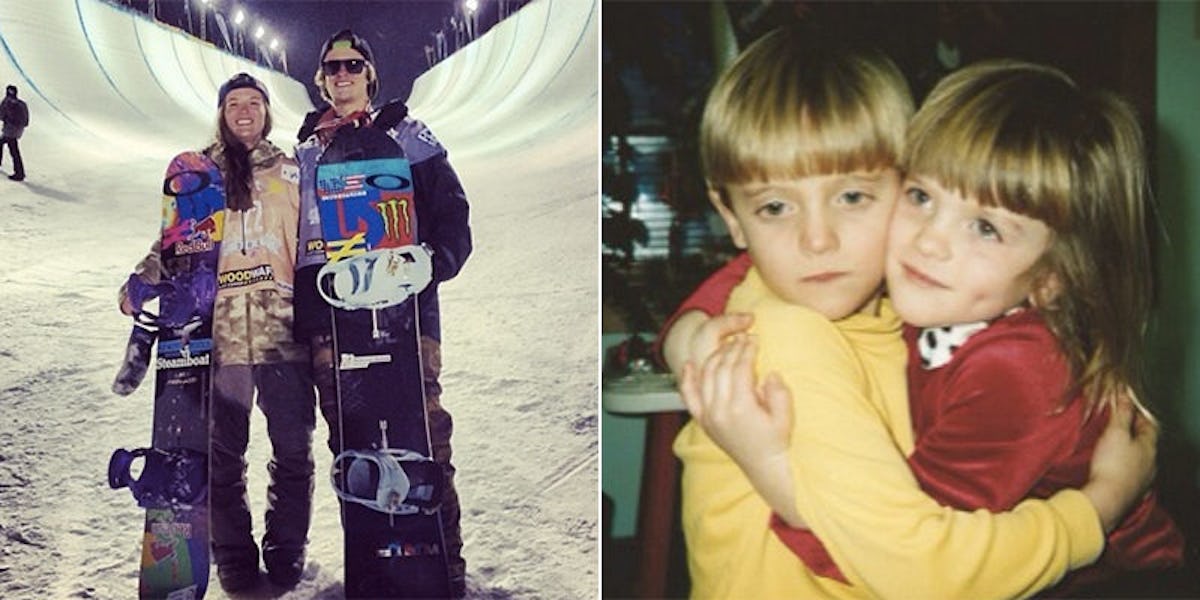 These X Games Stars Prove Sibling Rivalry Is The Key To Success
Instagram
For parents, having one child become a success is impressive enough, but having two, three or even more is a remarkable feat that most would assume can only be explained by genetics. But what if the real reason behind that success was having one another?
Sibling rivalries can get tough, but they often times shape the people we become.
Those of us blessed enough to be born with a brother or sister, or even both, know what it's like to go crazy and lose our damn minds because of them.
We also know how their interests can affect us, either making us want to join them, or do the complete opposite. Even more than your peers or your parents, they are the ones who influence you the most, whether you realize it or not.
So when siblings both excel in something together, the work it takes to get there is not just by chance, but something that takes equal parts of each other.
Sibling rivalries aren't meant to be vengeful or damaging, like they sometimes get. They should motivate us to be better and teach us how to win together.
Whether it's nothing but love, a healthy competition or straight up genetics, these action sports stars are proving that rivalries breed success.
Brother and sister Arielle and Taylor Gold have been competing together since they were children, and while they don't ever go head-to-head, they still use each other for motivation.
The siblings spoke to Elite Daily, and while they both support each other fully, they have different opinions on their "rivalry." Arielle said,
There has never been a sibling rivalry, and I don't ever foresee one developing. Taylor and I have nothing but support for each other. Unfortunately we can't always share our success with each other, nonetheless, his happiness is mine, and I'd be willing to bet that he feels the same way.
Taylor, on the other hand, believes his sister's success pushed him to work harder. He said,
I don't feel a rivalry anymore, but when Arielle had her break out year in 2013, I definitely felt a drive building. Being so close to that kind of success without having it is just about the best kick in the butt there is to start killing it, so it was amazing when the next year I had my break out year.
Another brother and sister pair, Darcy and Cassie Sharpe, are both competing in the winter X Games this year. There's nothing but love between these two.
Cassie says she and her bro like to keep it light with each other and take the pressure off.
Honestly, I don't think there's as much rivalry as you might think! We're both just too stoked for each other to compare ourselves… but that being said, we still are siblings and will crack the odd joke here and there about it.
Darcy feels the same way. He said,
It's all love! Both always just hopping we both perform our best!
Jossi, Beau-James, Byron and Jackson Wells are four brothers who've been competitive with each other for their entire lives.
Jossi says that competition has fueled all three of them, but at the end of the day it's about focusing on themselves and leaving room to root for one another. He said,
From my point of view, my bros have always just been another competitor. I'm out there to do the best I possibly can, and that's all I can do. I'm mostly competitive against myself. If I ski the best I can, then that's all I can do. If it's not my day and I don't ski well, I would rather my brothers ski well than anyone else in the field. I get just as hyped if they do well than if I was to do well myself.
To me, if all four of us are competing in the same competition, it's like I have four shots at doing well. If I don't land my runs and the others do well, then that's a successful day.
Byron kept it real and summed everything up perfectly.
Of course there is a little rivalry. We are all very competitive, so that comes naturally. When it comes down to it though, I love to see the boys do well. If someone is going to beat me, it's better to be my brothers than anyone else.
Taylor Gold, Cassie Sharpe and Byron Wells all say their parents played important roles in their development.
Taylor says his parents were huge influences on both him and Arielle.
When I first started competing, my dad drove me to all the local contests around Colorado. He did everything. Found lodging, got me registered, took me to the mountain, found me a jacket when I inevitably forgot mine at home. My mom did the worrying for both of them during my runs.
Cassie has a similar story about her supportive parents.
Personally, I think it was easy for our parents to be supportive because of our dad's job as the business director at Mount Washington. We were always up at the hill with him on weekends, so it just seemed like a good way to spend our time competing. I think our mom has been and always will be nervous watching us fly around, but she's always been nothing but supportive. I think one of the biggest factors into finding my love for skiing is that they never forced me to do anything, whether it was to compete or not to compete, it was always my choice. I grew up the middle child and only girl in my family, so the competitive nature came naturally for me.
Byron says his parents were as supportive as they could have possibly been.
Mum and Dad have been supportive from the very beginning...making sacrifices to get us the equipment we needed or driving hours to and from events back when we were only racing. Once we started freeskiing it took it to a whole other level spending the money to get us to the US to train and compete. After the first year of coming overseas, Dad started traveling with us to manage and coach without pay for six months of the year. Dad has always been our biggest fan and would do anything to see us succeed.
Whether you're an action sports star or building a business, the path to success starts at the crib.
It's different for everybody, but the keys to success lie in the people you surround yourself with, and before anyone else, that's your fam.
Competition always brings the best out of winners and if you're not about that life, then it's probably a wrap for you.
Working together you can move mountains, but working against each other doesn't do anyone any favors. Don't do that.
Sibling rivalries are made to push you, not break you.