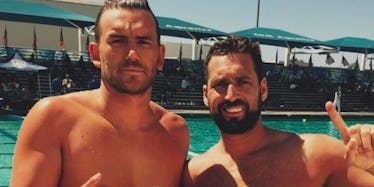 We Need To Talk About How Sexy The USA Men's Olympic Water Polo Team Is
Instagram
OK, hold up ONE HOT SECOND HERE.
We all need to just chill and talk about something VERY important.
You may need to prepare yourselves with a cold bottle of wine because what I'm about to show you is seriously too hot to even handle.
Not only are the guys on the USA Men's Olympic Water Polo Team insanely talented, they're also totally sexy.
I'm not exaggerating.
Is there a heat wave rn or something? It's getting real steamy up in here…
Hellooooooo Speedo and ab city.
When the guys get pumped up alongside their teammates they look even more fine, if that's possible.
The guys making time to snap a picture with fans will make you totally ~swoon~.
Here they are being the ultimate dream team in polo shirts…
... And straight up crushing the squad goal game.
They know how to have an awesome time...
And I must say, they look SO handsome in the official ceremony uniform.
USA Men's Olympic Water Polo Team REPRESENT.
Seriously though, can you handle them or nah?
These guys are straight fire.
Team USA all the way.
Citations: FYI, The USA Men's Olympic Water Polo Team Is Really Hot (Buzzfeed)