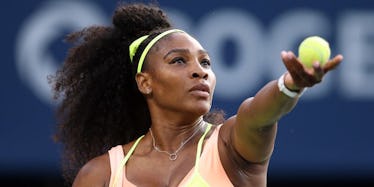 You Just Voted Serena Williams The Greatest Tennis Player Of All Time
Getty Images
At the end of 2015, Serena Williams was named Sports Illustrated's Sportsperson of the Year.
Now, according to a recent survey from The Harris Poll, Americans officially think she is the greatest tennis player in the history of the sport.
Americans also voted Williams the fourth greatest athlete ever, ahead of names like LeBron James and Peyton Manning.
The 2015 online poll, which was conducted from September 9 to September 17, revealed Serena was most liked by Millennials and females.
The latter group ranked her the second best athlete of all time.
Though she fell just short of a calendar Grand Slam last year, Serena's career accomplishments read like a laundry list of unthinkable greatness. She has 21 Grand Slam singles titles to her name and is poised to dominate once again in 2016.
Congrats, Serena, on yet another amazing achievement.
Citations: America Now Thinks Serena Williams Is The Greatest Tennis Player Ever (Huffington Post), He Shoots, He Scores! Americans Still See Michael Jordan as the Greatest Sports Star of All Time (The Harris Poll)