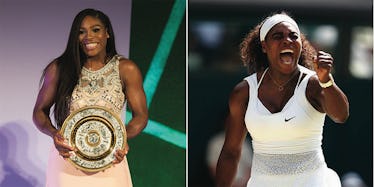 15 Times Serena Williams Was The Absolute Baddest B*tch In The Game (Photos)
Getty Images
Congratulations, Serena.  Today, you were officially crowned Sports Illustrated's 2015 Sportsperson of the Year.
To say the honor is well deserved would be superfluous.
Your victory is a testament to one of the greatest sports seasons in history.
Sure, you missed out on that elusive calendar grand slam when you fell short of a seventh US Open title this summer, but it's hard to be perfect.
Still, winning the 2015 Australian Open and French Open, as well as Wimbledon, was more than enough to solidify your position as this year's top sports figure.
To celebrate SI's 2015 Sportsperson of the Year, check out 15 times Serena was the absolute baddest bitch in the game this past year.
When she was literally a superhero and tracked down a thief who tried to swipe her phone
When she took a gold-medal selfie in preparation for the 2016 Rio Games
When she completed the "Serena Slam" and solidified herself as one of the all-time greats
When she had Drake at Wimbledon like...
When she rocked the cover of Vogue and posted a picture of herself reading about herself
When she showed the world she could even crush opponents in heels
When she landed on the cover of The New York Times magazine as "The Greatest"
When she took a selfie with Kim and let Kim be the one to post it on Instagram
When she showed off her new collection at New York Fashion Week
When she showed off her flexibility and skills for GQ
When she reminded us all where she's from
When she borrowed Common's Oscar for a quick photo opportunity
When she hung out with Sly Stallone at an Audemars Piguet event
When she made the nerd inside all of us die with a Super Nintendo shot
When she represented for the Philippine Mavericks of the International Premier Tennis League