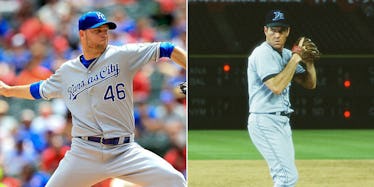 An MLB Pitcher Is Actually Living The Exact Plot From 'The Rookie'
Facebook/Sky
You remember the movie "The Rookie," right?
You know, Dennis Quaid plays the part of Jimmy Morris, a Texas high school baseball coach and chemistry teacher who ends up pitching for Major League Baseball's Tampa Bay Devil Rays.
Ah, now you know.
Maybe you also know this Disney classic — yeah, I went there — is based on a true story.
Jim Morris was indeed an actual high school baseball coach who ended up living his dream of playing professional baseball.
Morris and Quaid pitched for the Devil Rays in 2000 and 2002, respectively, and in 2015, 34-year-old Ryan Madson is living that dream with the Kansas City Royals.
This is not Madson's first year in the big leagues — he pitched for the Philadelphia Phillies for nine years — but it is his first time pitching professionally since 2011.
See, Madson became a free agent following the 2011 season, but he underwent Tommy John surgery after suffering a torn elbow ligament while at spring training with the Cincinnati Reds in 2012.
His road to becoming the most reliable arm in the Kansas City Royals' bullpen is not only remarkable, it's eerily similar to that of Jim Morris' path to the majors.
Madson produced solid numbers in Philly, but a breakdown in contract talks led to his exit from the City of Brotherly Love.
From 2002 to 2011, Ryan Madson was one of the most dependable arms in the Philadelphia bullpen.
During his peak, he routinely hit 95 mph on his fastball.
In 491 games, Madson pitched 630 innings, posted an ERA of 3.50 and recorded 547 strikeouts. In 2008, he helped the Phillies capture their first World Series title in nearly three decades.
In 2011, at the age of 30, Madson finally became the Phillies' full-time closer; recording 32 saves, while posting a 2.37 ERA and a 1.15 WHIP. The Phillies led the majors with 102 wins.
Things were looking great.
After the season, Madson and Philadelphia danced around a four-year deal worth $44 million.
However, the Phillies eventually chose to sign closer Jonathan Papelbon to a $50 million deal instead.
Madson's time in Philly was over, but he had to feel confident about finding a new home in free agency.
Mad Dog landed with another team, but things unraveled before Opening Day 2012.
Madson signed with the Cincinnati Reds for one year, $8.5 million. Perhaps not the payday he expected, but such is life for a 30-year-old relief pitcher.
Before the start of the 2012 season, Madson felt an elbow soreness that turned out to be a torn ligament.
He missed the entire season after undergoing Tommy John surgery.
In 2013, the Los Angeles Angels took a chance on Madson, but the former World Series champion suffered setback after setback and could not get back on the hill to pitch at all that year.
On August 5, the Angels gave up on Madson and released him from the club. But Madson wasn't bitter at the team, just his situation.
Speaking with philly.com, Madson said,
That was insanity – doing the same thing over and over, expecting a different result and not getting it. They put a lot of hours into my elbow trying to get it back.
Madson fell out of baseball completely. He opted to become a stay-at-home dad in Southern California and refused to even watch the game on television.
The game's youthful exuberance brought him back into the fold.
Here's where Madson's story begins to echo that of Jim Morris.
Madson, like Morris, is a family man; he has five children between the ages of 1 and 9.
And it was during this past World Series, when he gave in to watching with his two twin boys, that Madson realized how much he missed the game he grew up playing.
He chose to forget about the fall from the top, the elbow surgery and the 15 teams he threw for (but got no major league offers from) in 2014.
In "The Rookie," Morris was a high school baseball coach and chemistry teacher in Big Lake, Texas.
While he showed early on in the film that he could throw gas, it was only after his kids wagered their own success against him trying out for the Devil Rays that Morris agreed to put himself through the rigors of a major league audition.
Last August, Madson took a promising young high school pitcher under his wing at the urging of Jim Fregosi, Jr., the man who signed Madson out of high school to pitch for the Phillies.
Fregosi, now a special assistant with the Kansas City Royals, had stayed in touch with Madson over the years, and after the former Philly started to register 90 mph on the radar gun, Fregosi urged him to accept his invitation to spring training with the Royals.
Madson, like Morris, was hesitant at first, but through his work with that high school junior, he realized a 34-year-old couldn't turn down such an opportunity.
Speaking with The Orange County Register, Madson said,
This kid I'm coaching and a thousand other kinds in this valley would love to have this opportunity. It's either now, or it's never. It was probably going to be my last opportunity. I didn't want to just waste it.
Madson took an opportunity and is absolutely killing it.
At spring training, Madson hit 94 mph on the gun. The Royals signed him to a one-year deal worth $850,000.
On April 6, Madson pitched for the first time in 1,277 days, closing out a blowout victory for the Royals on opening day.
Since then, he's been lights out for the first-place team in the AL Central. In 16 games, Madson has posted a 1.45 ERA and a 0.643 WHIP; he's allowed just eight hits in 18.2 innings; and he's recorded 19 strikeouts while walking only four batters.
Out of baseball for three and a half years, Madson isn't feeling any pressure, which is allowing him to play the best baseball of his career.
In the beginning of April, he told The Orange County Register,
With everything I've been through, nothing fazes me. I need to get a little bit of that heightened competition feel, and that just comes with reps. I have the confidence I'll get there.
Ryan Madson has arrived.
Citations: Ryan Madson (Baseball Reference), Ryan Madson free agency: Phillies interested in re-acquiring RP (SB Nation), Bulked-up Madson getting a chance with Royals (philly.com), Former Angel Ryan Madson takes long road back to majors with Royals (The Orange County Register)