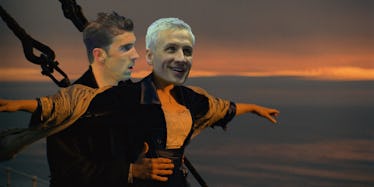 Ryan Lochte Can't Go On Without Michael Phelps, According To This Sad Interview
REUTERS/Paramount
Ryan Lochte swam what may have been his last race against Michael Phelps at the Olympics in Rio on Thursday night.
The BFFs swam against each other in the 200m individual medley. Phelps won gold while Lochte had a disappointing performance and did not medal. It was Lochte's final race at the Rio Olympics.
After the race, Phelps had an emotional medal ceremony — and then prepared for his next race half an hour later to qualify for the 100m butterfly final on Friday.
Lochte, meanwhile, had a deeply existential interview right after what was called the bros' final face-off.
Lochte said about the race,
I'm kind of bummed, but, you know, I gave it my all, so that's all I can ask for.
The interviewer reminded Lochte that he said swimming is his home and he would continue to do it until it wasn't fun anymore. Lochte said,
Especially how long I've been doing this, it's hard finding different ways to make it fun again.
Lochte then revealed that he will be taking a break from swimming after the Olympics. He said,
I'm gonna need some time off. Just a break, mentally and physically.
But hope's not totally lost. Lochte added,
But who knows? I might be back.
On Friday morning, Lochte seemed to have found a way to persevere.
Lochte will persevere through his bromance with Phelps — and his unending faith in Phelps' continued dominance.
Phelps has repeatedly said that Rio will be his last Olympic games. But we've heard this before from him.
Back in 2012, after the London Olympics, Phelps said he was retiring.
And then he came back in 2014.
And now he's winning all these medals like he's 19 years old, fresh, ruthless, unbeatable. In Thursday night's 200m individual medley, Phelps won by a full two seconds. That's crazy town.
Phelps keeps saying this is his last Olympics, and everyone else in the world keeps saying "sure, sure, sure, sure, sure."
But Lochte has other plans for Phelps.
In an interview with Matt Lauer on Friday morning, Lochte put all his hopes out there.
Lauer asked Lochte if he believes he'll see Phelps at the 2020 Olympics in Tokyo. Lochte said,
I guarantee he will be there. I think so. I really think so.
Lochte smiled as he put the challenge out there.
Michael, I'll see you in Tokyo.
Like a nicer version of Harry Potter and Voldemort, with Phelps and Lochte, neither can retire while the other desperately needs him there to make him a better swimmer, and a better man.
Citations: SBNation