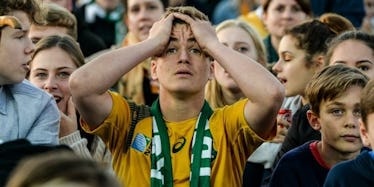 Photo Shows Rugby Player Nearly Getting His D*ck Ripped Off During A Match
Getty Images
An Australian rugby player, Haydn Peacock, is thanking his lucky stars after his dick was nearly ripped off in a recent league match in France.
According to reports, the 23-year-old required 11 stitches to repair the injury, and his penis did, in fact, get separated from his body. Peacock suffered the injury in the first half of the game when an opposing player tackled him to the ground by grabbing hold of his genitals -- yet he somehow managed to keep playing until halftime.
After checking out his wound during a break in the match, Peacock reportedly said,
At halftime I was like, I've got to have a look. I checked on it and the skin is half ripped off and I was like, 'Sh*t, where's the doctor? Where's the doctor?'
Peacock didn't miss his next game, but he was reportedly heavily bandaged for the action. Looks like you can't keep a good man down, right?
Citations: The eye-watering moment an Australian rugby league player almost had his penis ripped off in a tackle playing in France - leaving him with a gash needing 11 stitches (Daily Mail), Haydn's in the grip of another promising season (French Footy)