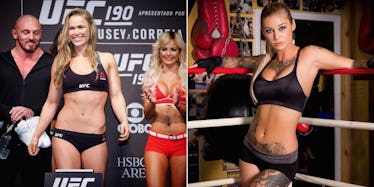 Someone Is Making A Ronda Rousey Porn Parody Called 'Ronda ArouseMe' (Video)
On Saturday night, Ronda Rousey dismantled Bethe Correia in just 34 seconds at UFC 190.
That fight, in addition to her other impressive victories and sculpted body, made Rousey the inspiration for a porn parody titled "Ronda ArouseMe: Grounded and Pounded."
Adult film star Kleio Valentien will reportedly play Rousey in the upcoming film, as evidenced by recent photos Valentien posted on her Instagram account.
Miesha Tate, one of Ronda Rousey's UFC rivals, is also expected to be portrayed in the film under the character name Miesha Taint.
Film director Joanna Angel is a huge fan of Rousey.
She said,
One of the guys in the film, Ronda's trainer, his name is Derek Pierce and he knows a lot about fighting. Derek choreographed a bunch of fight moves and used a lot of Ronda's moves and incorporated that into the movie.
She also allegedly told TMZ Sports,
We changed the 'armbar' to a 'dickbar.'
This is a porno in the end, right?
Kleio also made sure to wish Rousey luck before UFC 190.
Good luck tonight! @RondaRousey #ufc190 — Kleio Valentien (@KleioValentien) August 1, 2015
But it's not like she needed it.
Citations: A porn parody of UFC fighter Ronda Rousey is coming soon (The Daily Dot)