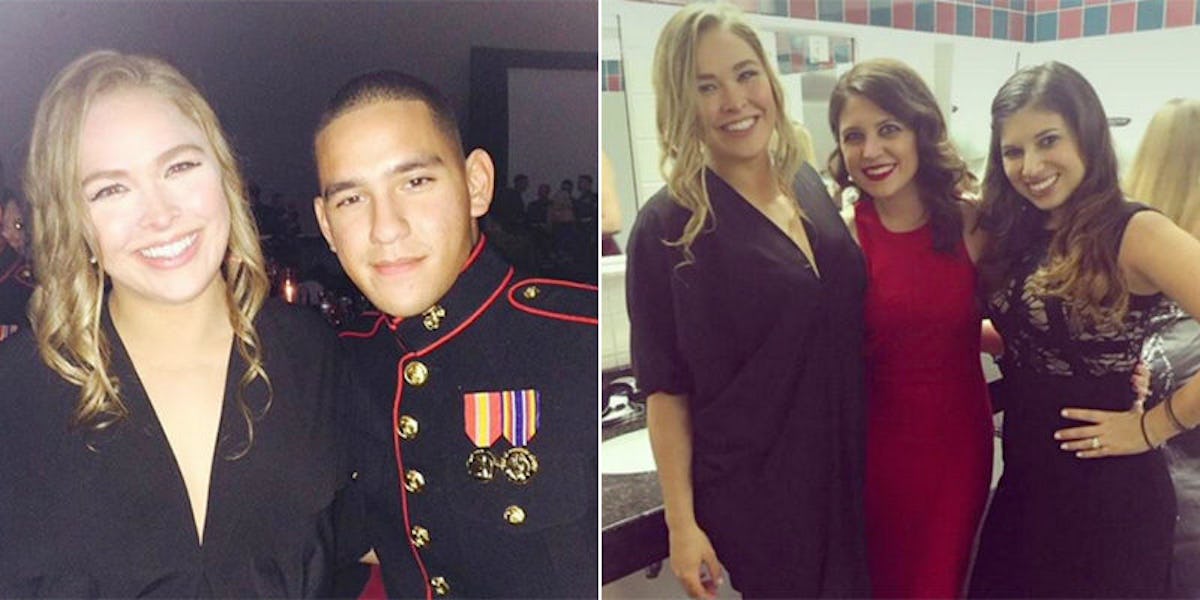 Ronda Rousey Makes Good On Her Promise To Attend Marine Corps Ball (Photos)
Ronda Rousey is a woman of her word.
Despite keeping a low profile lately, following a humbling defeat to Holly Holm last month, Rousey kept her promise to US Marine Jarrod Haschert and attended the Marine Corps Ball as his date.
Her promise predates the loss to Holm, all the way back to August when Haschert posted this video on YouTube asking the MMA fighter to attend the ball with him.
Rousey told TMZ she wasn't going to go at first, but agreed after her (now recent) fight against Holm got moved from January to November.
A loss may keep Ronda down, but not out. Ronda Rousey kept her promise and attended the Marine Corps ball. pic.twitter.com/zkSQ5y8zug — 120 Sports (@120Sports) December 12, 2015
And it's good thing she went, too, otherwise, she'd probably have been dwelling in more disappointment on Saturday. At least, that's the picture Rousey painted herself.
Before the ball, she told TMZ,
I promised I'd go. It's an honor to be asked. Honestly, I'd probably stay on my couch, crying and eating ice cream if he hadn't asked me. So it's probably a good thing.
That's what you call a win-win.
Citations: Ronda Rousey stays true to her word, attends Marine Corps Ball with a huge smile (For The Win)