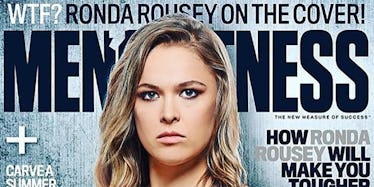 Ronda Rousey Made History Again By Gracing The Cover Of Men's Fitness
If you thought there was no more history for Ronda Rousey to make, think again.
The woman whose career has been all about notable feats accomplished yet another: becoming the first woman to appear on the cover of the Australian version of Men's Fitness.
Rousey posted the cover photo on her Instagram page.
Rousey's appearance on the cover comes in the lead-up to her title fight against Holly Holm at UFC 193, which will take place in Melbourne, Australia.
And if you think her cover photo was noteworthy, just wait 'til you watch the official promo video for her next challenge.