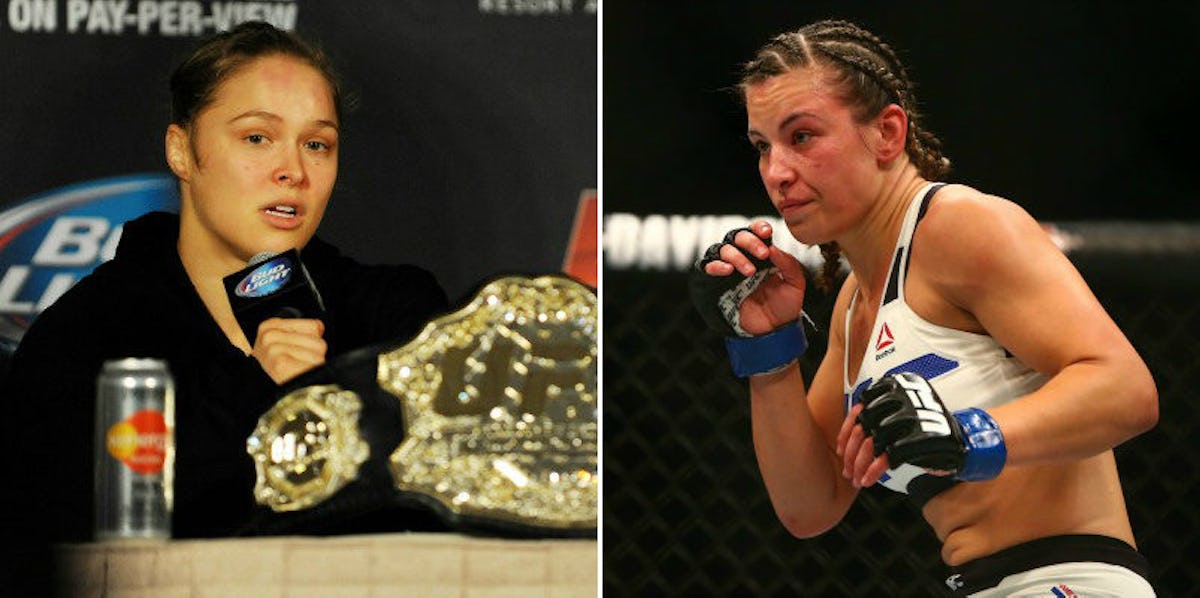 Ronda Rousey Apparently Cursed Out A Fighter For Congratulating Holly Holm
USA TODAY Sports
It's no secret Ronda Rousey was physically and emotionally shook after losing to Holly Holm at UFC 193 last November. In a recent interview with TIME, Rousey opened up about struggling with depression and trying to move forward with her life, personally and professionally.
According to reports, though, it looks like Rousey is still a bit touchy about her loss to Holm.
Thursday, another one of Ronda Rousey's rivals, Miesha Tate, joined the set of "The Joe Rogan Experience" and shared an interesting story about Rousey cursing out fellow UFC fighter Paige VanZant at a recent Reebok event.
Apparently, Rousey was pissed VanZant congratulated Holly Holm after she beat Rousey at UFC 193. According to Tate's account, as you can hear in the video above, Rousey said,
F*ck you, you fair-weather bitch. How dare you cross me... You congratulated Holly Holm for beating me, so f*ck you, you f*cking fair-weather, 115-pound...
Uh, those are definitely fighting words where I come from. It's important to point out VanZant is listed at 115 pounds, while Rousey is listed at 135 pounds, so I doubt this would really be a fair fight.
According to reports, Paige VanZant corroborated she and Rousey had some sort of altercation, reportedly saying,
It appears that I offended Ronda by congratulating Holly after her victory. The incident was very shocking and totally unnecessary.
It looks like Ronda Rousey still has a long way to go to fully get over her crippling loss to Holly Holm.
Citations: Ronda Rousey Reportedly Went Off on Fellow Fighter for Congratulating Holly Holm (Complex)