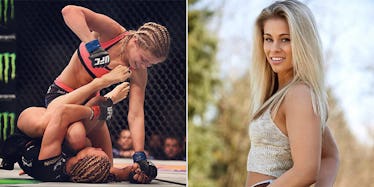 This Stunning 21-Year-Old Gave Up Modeling To Be A UFC Fighter (Photos)
If you saw 5'4" Paige VanZant walking down the street, you'd probably think she was just another gorgeous blonde woman.
But, oh, how wrong you'd be.
This 21-year-old bombshell is a fighting machine, and she's the latest name making a big splash in women's MMA.
VanZant's story is unique, though, not just because of her diminutive stature, but because she gave up a successful career in modeling and acting in order to pursue her fighting dream.
It started with a simple MMA gym class, but now VanZant is on the verge of contending for the UFC women's strawweight championship.
Here's how she went from starring in national television commercials to fighting for a championship belt.
Paige VanZant is currently the seventh-best fighter in the UFC's Women's Strawweight division.
Before that, she was following a career path in modeling and acting.
Instilled with a passion for the outdoors from a young age, VanZant has modeled for Nike and Columbia Sportswear...
...and has participated in numerous photoshoots with various photographers.
In 2009, VanZant stumbled upon an MMA class at Ken Shamrock's Lions Den, which she decided to take at the urging of her dad.
The Oregon native fell in love with the sport and won her first amateur fight at just 18 and her first pro fight in 2012.
VanZant made her UFC debut in November of 2014, defeating Kailin Curran in three rounds.
She's won every single one of her UFC strawweight fights since and is quickly becoming one of most-feared fighters in the game.
VanZant may only weigh 115 pounds, but with a career fighting record of 6-1, there are few who should underestimate her kick-ass ability.
At 21, VanZant is the second-youngest female fighter in the UFC and third-youngest fighter overall.
But with her skill and marketability, she's already firmly on the radar of outlets like Sports Illustrated...
...as well as FOX Sports.
Paige VanZant's also hanging out with some big-time NBA superstars...
...and pulling a sponsorship deal with major UFC endorser MusclePharm.
Although she only made her UFC debut last year, Paige will become a serious contender for the strawweight title if she wins her December 10 bout against Rose Namajunas.
She certainly looks like she's ready to battle.
Of course VanZant wants a shot at the belt, but she's also fighting for every girl who was ever told she was too small or didn't belong.
It really is just the beginning for this former model/actress-turned-UFC-warrior.
Citations: Paige VanZant trades modelling and acting for UFC title quest (Sky SPORTS), PAIGE VANZANT (UFC), paigevanzantufc (Instagram)