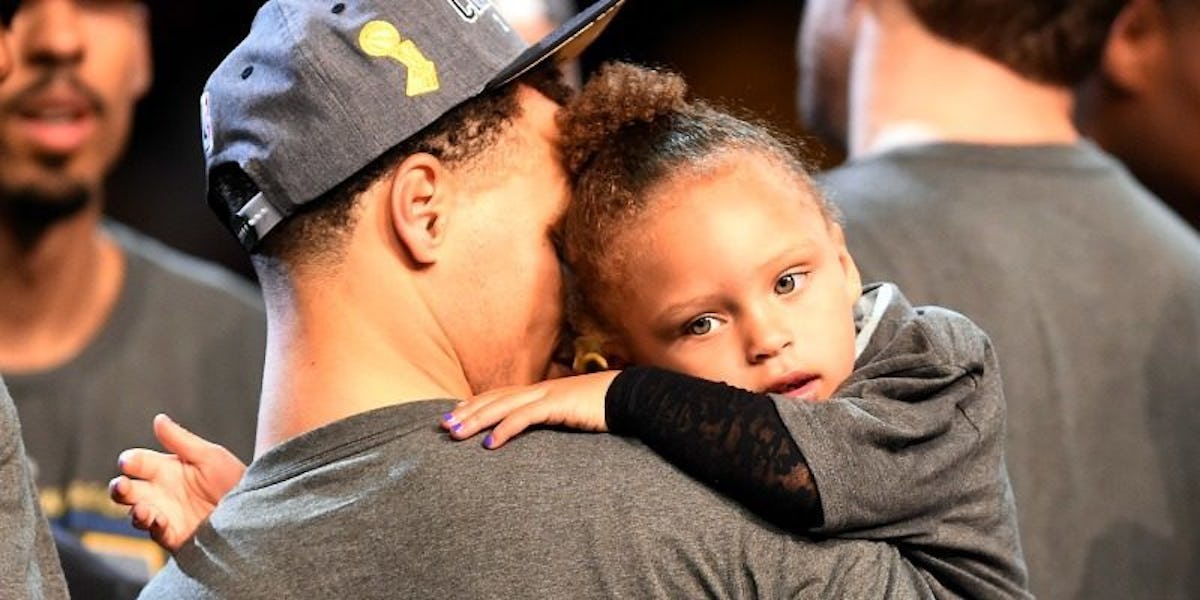 Riley Curry Had The Best Reaction To Steph Kissing Her After Game 7
USA TODAY Sports
Monday night, Steph Curry, Klay Thompson and the Golden State Warriors completed their NBA Western Conference Finals comeback with a 96-88 win over the Oklahoma City Thunder in Game 7.
Steph Curry finished with 36 points and eight assists, while his fellow Splash Brother, Klay Thompson, chipped in with 21 points in the winning effort.
For virtually every second of the game, the Warriors' Oracle Arena was rocking, and that party extended well beyond the final buzzer at the end of the fourth quarter.
Confetti fell from the rafters, the Western Conference trophy was lifted and Steph Curry and Riley Curry shared perhaps their most adorable moment yet.
Sure, you've seen Riley Curry take over postgame press conferences and pregame routines, but Riley's reaction to her dad planting a big kiss on her cheek last night was priceless.
From the smile on her face to her little finger point at her dad, Riley Curry once again managed to steal the show.
I know you're not surprised at this because, well, it's Riley Curry. We should just be used to it at this point, but still, the pure joy on Riley Curry's face and her apparent appreciation for her dad's achievement is nothing but awesome.
Citations: Curry and record-setting Warriors headed back to NBA Finals (NBA.com)