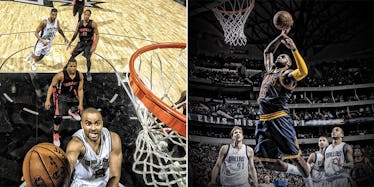 Why Restructuring The NBA Playoffs Would Ruin The Regular Season
Instagram
When my friends complain about the NBA, it is typically, at its core, about how the game is boring for three and a half quarters and then exciting for half a quarter.
I get it; that can definitely be the case. I was at the Boston Celtics vs. Utah Jazz game last week when both teams blundered their way through the first 42 minutes of the game.
The score at halftime was 34-33. The game ended with a late Gordon Hayward jumper and then a Tyler Zeller buzzer beater.
It ended up being an exciting finish, despite the boring start.
Imagine if the NBA season as a whole was as boring as those first three and a half quarters of those dull regular season games?
It isn't that hard to imagine, actually. If the NBA allowed the top 16 teams into the playoffs (without bothering with conference seedings), the regular season would be 100 percent wrapped up today.
Adam Silver is considering moving to this model in the future, which could be a terrible plan if we have more seasons like this current one in the NBA.
The gap between the 16th best team (Phoenix Suns) and the 17th best team (Indiana Pacers and Charlotte Hornets) is five games right now. There are about 20 games left for each team (a quarter of the season), which makes a five-game gap very tough to make up.
Luckily, instead of having the playoffs set, the Eastern Conference has a six-team race for the final two playoff spots.
I understand I am biased as a Celtics fan, but isn't this more interesting than having 14 teams just play out their final 20 games without any playoff aspirations?
The six teams in Eastern Conference playoff race would have probably decided to tank for the lottery over a month ago.
Even the Pacers, who didn't start playing well until just before the All-Star game, might have decided to cash in their chips, rest Paul George and hope for better luck next year.
We avoided a tank-a-palooza this season, and will be treated to a mediocre playoff push involving six franchises. That's fantastic. Yes, I did say mediocre; I have to be somewhat honest, right? Watching the Celtics and Miami Heat battle Monday night was outstanding.
Isaiah Thomas hit clutch hoops after getting decked at the hoop by (another) Dwayne Wade sneaky play.
Suddenly, fans in six cities are scoreboard watching. Who's winning? Who's losing? The standings are changing every morning when we wake up.
Obviously, NBA fans would find other things to talk about if the top 16 teams were set this early in the season.
They would look at playoff seedings and playoff matchups (riveting!). They'd discuss (even more than they are) the MVP race (Steph Curry!). They might talk about if Russell Westbrook is a real-live person or a cyborg.
The NBA season has been unreal so far, and the level of play has been off the charts. There are fun players to root for and against.
The Western Conference has generated a playoff-like atmosphere every night. In many ways the playoffs have already started at the bottom of the Eastern Conference; there's six teams for two spots.
If these last 20 games were driven into obscurity by playoff realignment, it would be a boring final quarter of the regular season, and there would be no defense for it.