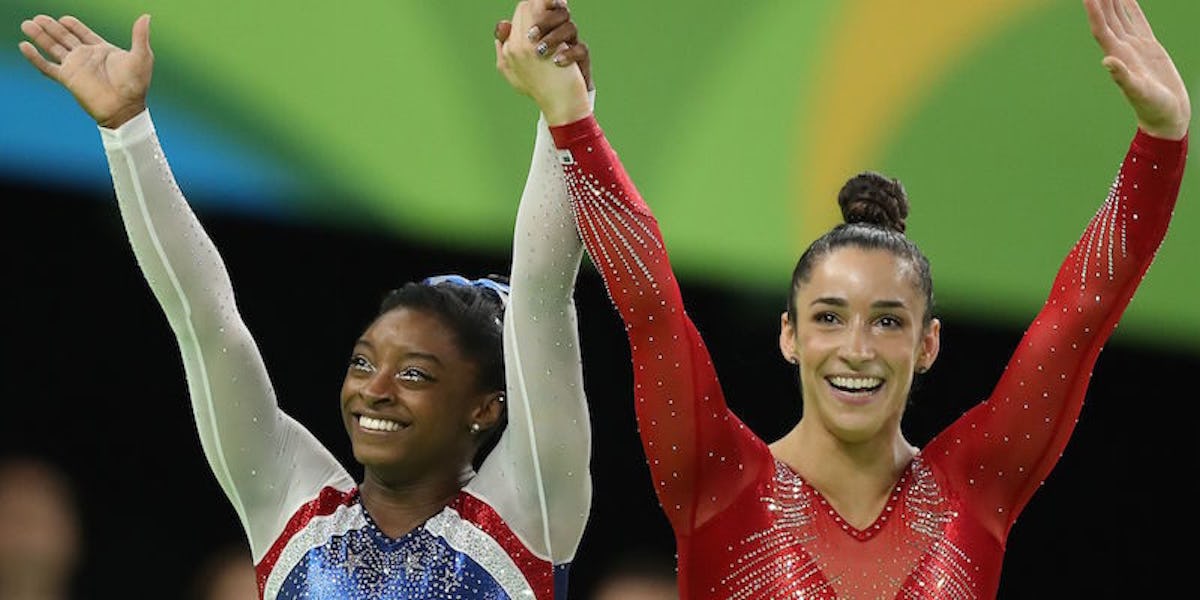 5 Questions We All Ask Ourselves While Watching The Olympics
REX/Shutterstock
Maybe you're watching the Olympics because you're really passionate about a particular sport. Or maybe it's because you love following the Olympians and their personal stories. Or maybe you're just trying to get a glimpse at Michael Phelps' insane "V-taper."
Why you're watching is irrelevant. The fact is, most of us are live-streaming the Olympics from our desks at this very moment and cringing in our seats as we become gradually more invested in the US medal count (see also: Aly Raisman's parents).
But this is the Olympics, and this is America, and if we aren't being paid to support our country's most dominant and best-looking athletes, then WHAT ARE WE REALLY DOING HERE?
The exceptional beauty of the Olympics lies in the fact we can all come together as a nation to ask ourselves the exact same questions. Here are five things we are all wondering while we watch the talent at the Rio Olympics.
Where did I go wrong?
After being featured on TIME magazine's 100 Most Influential People list earlier this year, 19-year-old Katie Ledecky has earned herself three more gold medals in Rio to stay undefeated in individual events.
Meanwhile, 19-year-old Simone Biles' outstanding performances guided the US women's gymnastics team to gold and earned her a gold in the individual all-around competition, which had us all asking ourselves, "Where might I be now if I had stuck with those tumbling classes in 1996?"
At just 19, their accomplishments speak volumes to their potential for success in future games. When I was 19, I struggled to show up for my college's co-ed club soccer practices and considered it a victory if I made it to Zumba on a Wednesday night. (Still relatively true.)
Do they have normal lives?
Townley Haas, soon-to-be college sophomore, collected gold alongside Michael Phelps, Ryan Lochte and Conor Dwyer for the men's 4x200 meter freestyle relay.
After Rio, will he head back to the University of Texas for the start of a new semester and groan at the thought of syllabus week? Will he drunk-eat an entire pizza off the cold tiles of his dorm? I can't help but wonder.
Are those gel manicures?
So many female Olympians have been showing off their national pride in the form of perfectly manicured nails. Somehow, they can compete at the highest level in their sports without chipping a single nail.
Meanwhile, I can't get from the drying station to my car without smudging at least three nails and crying the whole way home about the $30 I just wasted. Olympic manicurists, please share your secrets.
What are those weird bruises?
Not to be confused with large hickeys, those marks you're seeing on so many athletes (especially swimmers) are the result of an ancient Chinese practice called cupping. The process, which involves using glass, bamboo or plastic jars to suction the skin, is said to increase blood flow and ease sore muscles.
And it's not just for athletes. That's right, us NARPs (Non-Athletic Regular Person) can try cupping, too.
Do they reward themselves?
When all is said and done -- the medals have been won, the National Anthem has played and, if you're Michael Phelps, you've turned your tears into smiles -- do Olympians treat themselves to a pint of Ben & Jerry's or dive face-first into a plate of cheese fries? I assume not, but I have to ask these things if I'm ever going to make it to Tokyo in 2020.
Now that we've addressed these very important questions, we can go back to questioning our life choices over continuous Olympic coverage, a bottle of Rosé and a bag of potato chips. Olympians, feel free to weigh in as soon as you're done racking up medals for the good old U-S-of-A.